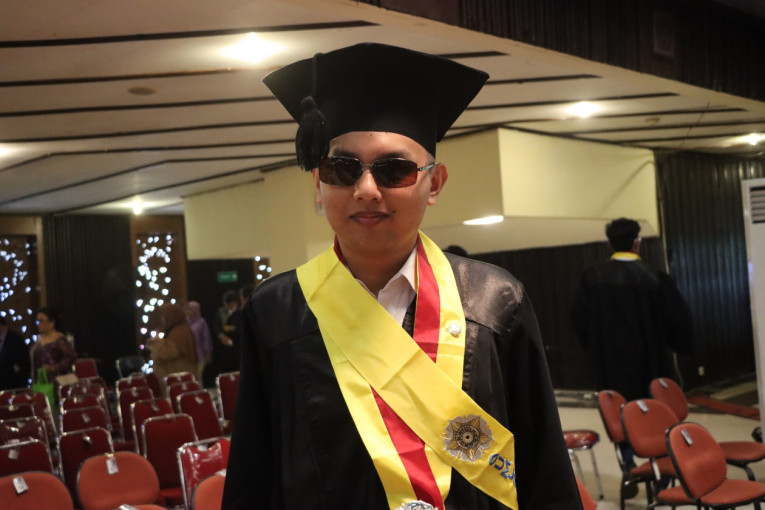 After the conferral ceremony on Thursday (August 24), thousands of graduates stood up from their seats to line up for photos in front of the stage at Grha Sabha Pramana, Universitas Gadjah Mada. Some made their way to the exit. 
However, Alexander Farrel Rasendriyo Haryono (22) remained seated in his chair amidst the crowd. Two friends accompanied him. Farrel was waiting for his parents to descend the balcony staircase to pick him up.
Before long, his mother, Emil Tri Ratnasari, aged 48, came over. His friends bid farewell, and his mother guided her eldest son, asking him to pose briefly with his back to the stage for a photo.
Farrel is one of 1,609 UGM bachelor's graduates who attended the ceremony on Thursday. Despite having a visual impairment, Farrel's spirit remained unbroken as he completed his studies on time at the Faculty of Law and graduated cum laude with a cumulative Grade Point Average (GPA) of 3.74. 
"I'm thrilled. I managed to finish on time, in four years," said the eldest of three siblings from Klaten.
Farrel shared that he did not face many challenges during his studies, as his lecturers always sent soft copies of class materials for online lectures. Then, during face-to-face courses, he diligently took notes of what the lecturers presented in class. 
"Fortunately, the lecturers always shared the learning materials. During lectures, I took notes," he stated.
During exams, Farrel was placed in a separate room. He could access the exam questions using a special tool, and he typed his answers on a laptop. The same went for his thesis. 
"Like other students, I wrote, researched, and conducted interviews," he said.
His thesis topic was related to income tax law for people with disabilities. 
"The thesis concluded that special provisions for income tax application for people with disabilities are needed. Economically, they have higher expenses than those without disabilities," he explained.
Regarding his mobility during his studies, Farrel expressed gratitude for the help of his fellow students. He ordered online motorcycle taxis to go to campus from his home. When he arrived at the gate, his classmates were waiting to accompany him to class. 
"When I arrived on campus, my friends would pick me up. I would be escorted to class. The same goes for a meeting with lecturers; I would always be escorted," he reminisced.
His mother expressed joy and pride that her eldest son had earned his bachelor's degree. During the graduation ceremony, she shed tears of emotion as she watched Farrel receive his diploma from afar.
"Oh, I kept crying up there (on the balcony). I'm just so proud. Farrel's struggle has been extraordinary. I hope for continued success in the future," the mother hoped.
She shared that Farrel had always been a diligent learner since childhood and never complained. He was always determined to achieve the same dreams as his friends with normal vision. 
"He never complained since childhood. He always wanted to be the same as his friends," she said.
After earning his Law degree, Farrel revealed his plans to apply for a job in the legal field, especially in the area of taxation, which he is interested in. 
"After this, I want to apply for a job first. Maybe in 2-3 years, I'll consider applying for a master's degree," he concluded.
Author/Photographer: Gusti Grehenson