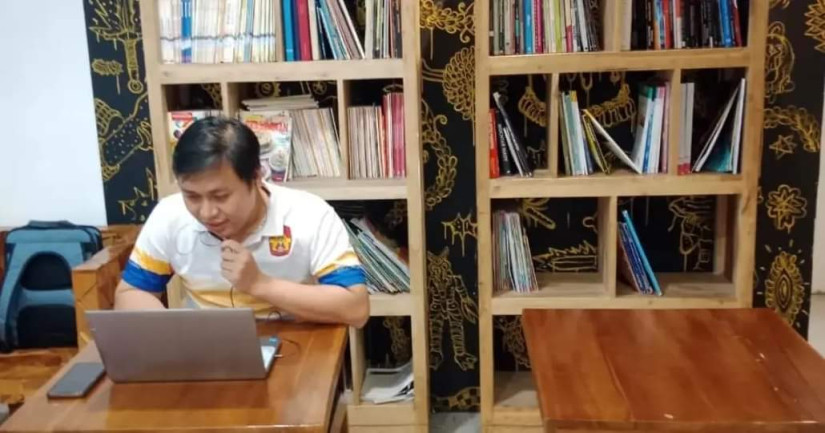 Dr. Arko Jatmiko Wicaksono of the UGM Faculty of Medicine, Public Health, and Nursing has been selected as one of the Best Paper Presenters at the Annual Scientific Meeting of the Indonesian Pharmacology Association (IKAFI) in Bali in 2023. 
This event is part of the National Coordination Meeting attended by hundreds of participants, including pharmacology experts, practitioners, researchers, academics, industry professionals, and observers in pharmacology.
The Annual Scientific Meeting occurred on August 25-26, 2023. During the event, Dr. Wicaksono presented the advancements in Artificial Intelligence (AI) technology and how it can be utilized to develop herbal and phyto-medicines in Indonesia. 
He emphasized the potential of AI in strengthening the position of Indonesian phytopharmaceutical products and the country's pharmaceutical resilience.
Several AI platforms supporting herbal development are available, free, and accessible globally. These platforms can provide rapid predictions of drug mechanisms and target actions. 
However, not all herbal researchers in Indonesia know these resources, as evidenced by the deficient number of publications between 2013 and 2023 that have utilized databanks or Artificial Intelligence (AI) in herbal research.
In his paper, Dr. Wicaksono revealed that while the trending topic of AI utilization is relatively new, projects involving AI-based databank development have been underway for the past decade. 
For example, the idea of mapping interactions between active compounds and other compounds in an herbal medicine preparation and their interactions with receptors in the body has been discussed in Europe since 2012.
"In other words, the creation of AI-based databanks like this already exists, and its development has been progressing rapidly over time," said the Center for Herbal Medicine researcher on Monday (September 4).
He noted that the same idea did not receive support in Indonesia then. Currently, in Europe, more than ten institutions are actively developing databanks in the medical field, including those related to herbal medicine development.
As a faculty member in the Department of Pharmacology and Therapeutics, he discussed the challenges of the AI era for Indonesian researchers. He emphasized the need to accelerate computational skills, the provision of data sources, and the integration of medical knowledge with information technology. 
To address these challenges, as a member of the central committee of the Indonesian Bioinformatics and Biodiversity Society, he proposed establishing a national consortium to develop AI-based databanks in the field of phyto-medicine in Indonesia.
"The databank development methods developed in Europe must also be initiated in Indonesia. The focus should be on mapping interactions between compounds and their effects on pharmacological effects and predicting potential toxicity," he said.
"This way, testing and trial and error using experimental animals would not be necessary every time there is a change in formulation."
In addition to Arko, three other UGM delegates (Hari Purnomo, Andini Juwan Prabandari, and Yacobus Christian Prasetyo) received Best Paper Presenter awards in different research areas.
Author: Agung Nugroho