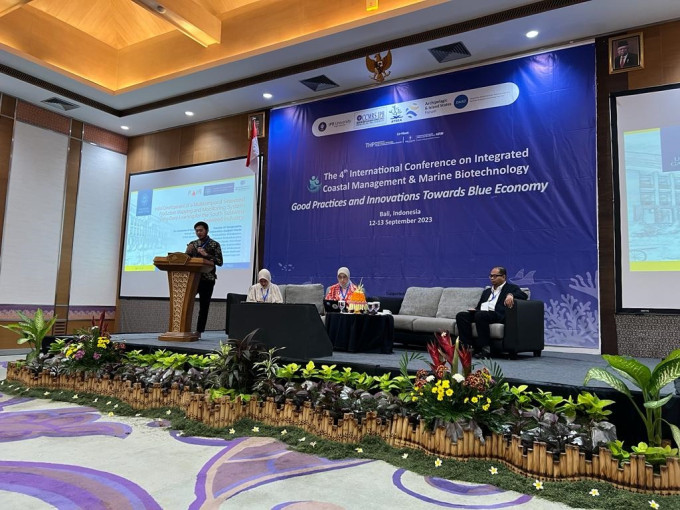 Professor Pramaditya Wicaksono, a lecturer at the UGM Faculty of Geography, has been honored with the "Best Presenter" award at the 4th International Conference on Integrated Coastal Management & Marine Biotechnology (ICMMBT).
This conference occurred at the Grand Inna Kuta in Bali, Indonesia, from September 12-13, 2023. 
Professor Wicaksono presented collaborative research titled "Initial Development of a Multitemporal Seaweed Production Mapping and Monitoring System using Deep Learning for the South Sulawesi Seaweed Industry." 
The study focused on integrating remote sensing, particularly artificial intelligence (AI) using deep learning, to map the dynamics of seaweed production in parts of South Sulawesi province.
Professor Wicaksono presented his research findings in a special session organized by the Australia-Indonesia Centre (AIC) as part of the 4th ICMMBT. 
ICMMBT is a leading international conference that brings together experts, researchers, and stakeholders from various countries in coastal management and marine biotechnology to discuss innovative approaches and practices for sustainable coastal and marine management. 
The conference is known for its contributions to advancing knowledge and solutions for a sustainable blue economy.
Professor Wicaksono explained that the primary focus of the research was the extraction of temporal, spectral, and spatial information from satellite images. 
This innovative system facilitates better planning and policymaking for the seaweed industry by characterizing growth areas based on production characteristics.
"The outcome of this prototype is a rapid, automated, and cost-effective mapping framework that provides multitemporal seaweed maps and production status information," he said on Friday, September 22.
The professor of coastal biodiversity remote sensing noted that seaweed cultivation mapping typically relies on visual interpretation of remote sensing data, which can be subjective and inconsistent due to the expertise of human resources. 
Integrating remote sensing with artificial intelligence (AI), specifically deep learning, offers a promising solution to address this challenge.
"This research introduces deep learning models for seaweed cultivation mapping, with a specific focus on PlanetScope satellite data," said the professor.
PlanetScope, he continued, is a multispectral satellite image with high temporal resolution. Although its spectral and radiometric quality can sometimes be inconsistent, PlanetScope is the primary data source for this research. 
The research team leveraged deep learning models to overcome data quality limitations using training data from various environmental conditions at seaweed cultivation locations.
"There are three main objectives of this research: to explore deep learning for seaweed cultivation mapping, to apply the developed model to multitemporal PlanetScope images to obtain seaweed cultivation dynamics, and to assess the feasibility of seaweed production evaluation based on multitemporal remote sensing data," explained the 35-year-old researcher.
Professor Wicaksono's research is the result of collaboration between researchers, lecturers, students, and staff from UGM, including Dr. Sanjiwana Arjasakusuma, Setiawan Djody Harahap, Iklila Rahmatika, Elyana Inggrid Widiastuti, Elkhan Baihaqi, and Yanuar Sulistyaningrum, along with lecturers and researchers from The University of Queensland, Australia, namely Associate Professor Ammar Abdul Aziz and Dr. Fathin Ayuni Azizah. 
This collaborative research was funded by The Partnership for Australia-Indonesia Research (PAIR).
The 4th ICMMBT was jointly organized by the Center for Coastal and Marine Resources Studies of IPB University, the GEF/UNDP/PEMSEA Arafura and Timor Seas Ecosystem Action Phase 2 (ATSEA-2) Project, the Archipelagic & Island States (AIS) Forum, and The German Academic Exchange Service (Deutscher Akademischer Austauschdienst, DAAD). 
The conference, attended by participants from at least 15 countries worldwide, had the theme "Good Practices and Innovations Towards the Blue Economy." 
The forum aims to promote creative solutions and practical approaches to coastal and marine management in support of a sustainable blue economy and the achievement of the Sustainable Development Goals (SDGs).
Author: Ika
Photo: Pramaditya Wicaksono