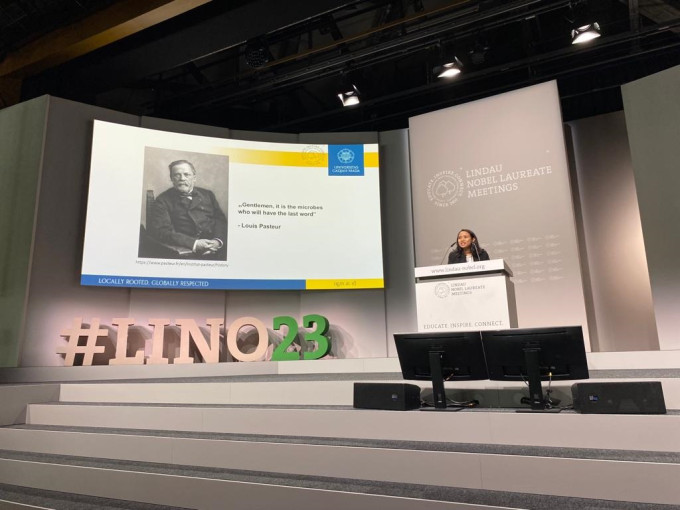 Dr. Antonia Morita Iswari Saktiawati, MD, and Agnes Rosarina Prita Sari, MD, from the UGM Faculty of Medicine, Public Health, and Nursing were selected as young scientist delegates to the 72nd Lindau Nobel Laureate Meeting in Germany from June 25th to June 30th, 2023. 
The Lindau Nobel Laureate Meetings bring together Nobel laureates and young scientists in medicine from around the world every year. More than 600 scientists participated in discussions on global health research this year, including Dr. Saktiawati, who represented Indonesia.
"I gave a presentation in the Next Gen Science Session, along with 45 out of 635 young scientists chosen to present their research," said Morita.
The research entitled "eNose-TB: A Trial Study Protocol of Electronic Nose for Tuberculosis Screening in Indonesia" was presented to an international audience of scientists at the event. 
This publication focuses on the screening and early detection of tuberculosis and other diseases using an electronic nose (eNose-TB). The device, tested on cases in Yogyakarta, detects the breathing patterns of tuberculosis patients, particularly in the early stages.
Typically, patients with tuberculosis have a different metabolism than the general population. Volatile Organic Compounds (VOCs) are compounds produced by patients due to the presence of Mycobacterium tuberculosis in the respiratory system. 
These compounds are the target of detection by the eNose through the patient's exhaled breath. Patients exhale into a bag connected to the detection device, and automatically, the eNose provides a pattern of the contents in the exhaled air.
Dr. Saktiawati's research on eNose provides an easy and efficient solution for early detection in tuberculosis management. Early disease detection allows for faster treatment and increases the chances of recovery. Not only is the eNose easy to use and fast, but the materials to create the device are also readily available in the community.
In addition to presenting the eNose research, Dr. Saktiawati also had the opportunity to be a panelist in a discussion on climate change with five other scientists. 
"I had the opportunity to be a panelist in discussion with Nobel laureate Peter Agre; German scientist Leonard Schmitt; MIT scientist Jana S. Huisman; senior German scientist Joacim Roklov; and WHO representative Diarmid Campbell-Lendrum," she said. 
Author: Tasya