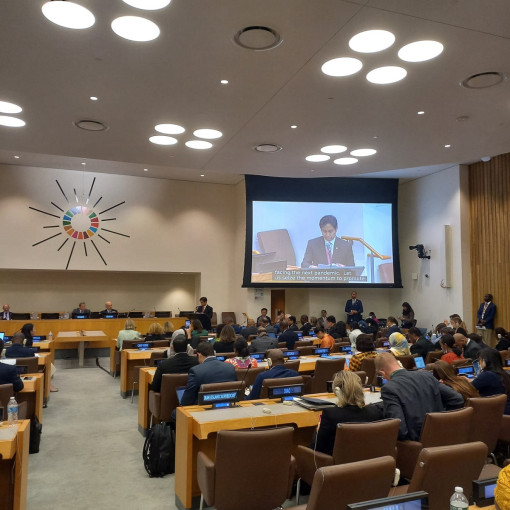 The Dean of the UGM Faculty of Medicine, Public Health, and Nursing, Professor Yodi Mahendradhata, participated in the United Nations (UN) High-Level Meetings on Pandemic Prevention, Preparedness, and Response (PPR) and Tuberculosis (TB).
These meetings occurred from September 20 to 22, 2023, in New York as part of the 78th UN General Assembly. 
These allowed UN member states to reposition health on the high-level political agenda in line with commitments to eliminate TB, achieve universal health coverage (UHC), and strengthen pandemic prevention, preparedness, and response. 
They also aimed to reinforce the commitment of UN member states to progress towards the Sustainable Development Goals (SDGs).
Professor Yodi Mahendradhata attended the meetings on behalf of the UGM Faculty of Medicine, Public Health, and Nursing after undergoing a rigorous accreditation and selection process by the UN Secretariat. 
The UGM Faculty of Medicine, Public Health, and Nursing was the only higher education institution from Indonesia included in the list of institutions accredited by the UN to attend these meetings.
The high-level meeting on TB comprehensively reviewed progress towards the TB elimination targets agreed upon in the political declaration of the UN's first high-level meeting on TB in 2018. 
This meeting resulted in a political declaration with ambitious new targets for the next five years to advance global efforts to end the TB epidemic.
In the high-level meeting on pandemics, leaders adopted a political declaration calling for more robust international collaboration and coordination at the highest political level to prevent, prepare for, and respond to pandemics more effectively. 
In the document, leaders committed to improving access to pandemic-related products such as vaccines, diagnostics, and therapies in a timely, sustainable, and equitable manner while calling on the World Health Organization (WHO) to coordinate these efforts with relevant stakeholders.
In a written statement submitted to the organizers of the high-level meeting on pandemics, Professor Mahendradhata emphasized that the COVID-19 pandemic has exposed vulnerabilities in the global health system. 
Additionally, the pandemic has raised awareness of the importance of building equal capacities in pandemic prevention, preparedness, and response. 
However, colonial legacies often still influence traditional approaches to capacity development, resulting in knowledge, power, and resource imbalances.
"Therefore, we urge adopting an approach that departs from colonial traditions by recognizing and respecting local knowledge, changing power dynamics, investing in local institutions, and promoting inclusive education and training," he said.
"We can work towards a fairer and more effective approach to addressing pandemics."
Regarding the high-level meeting on TB, the dean conveyed a written statement to the organizers, emphasizing the need to encourage regional financial institutions and development banks to prioritize TB research and development in their health investment portfolios. 
"We must also advocate for increased funding allocation for TB research and development from international health financing bodies such as the Global Fund to Fight AIDS, Tuberculosis, and Malaria (GFATM)," he added.
"Most importantly, we need to allocate funding for research that addresses the specific needs of marginalized and vulnerable communities, ensuring that they are not overlooked in developing new TB diagnostics, vaccines, and drugs."
Author: Ika
Photo: Professor Yodi Mahendradhata