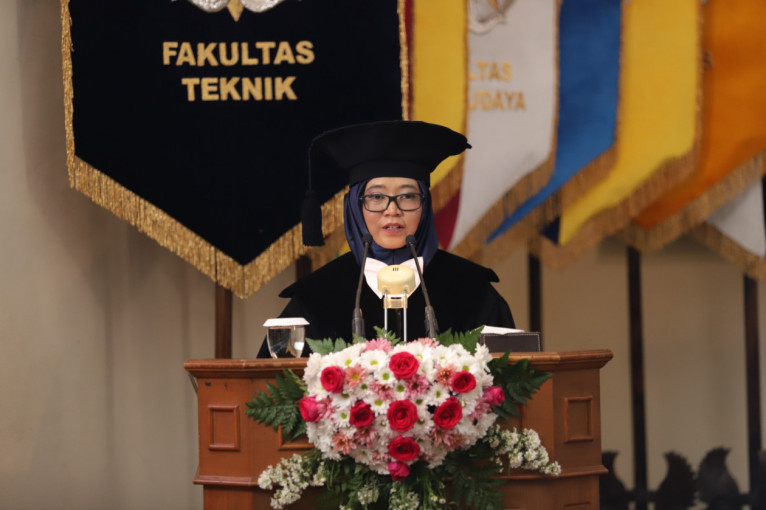 Dr. Bertha Maya Sopha from the UGM Faculty of Engineering has been officially appointed a professor of industrial engineering. 
The inauguration ceremony took place in the Senate Hall of the UGM Central Building on Tuesday (1/8).
During the ceremony, Professor Sopha delivered a speech titled "Circular Supply Chain Transition through Engineered Socio-Technical System with Agent-Based Modeling."
In her speech, the professor explained that Agent-Based Modeling (ABM) is an approach used to model components and their interactions and predict the behavior of systems in the long term. 
ABM has become particularly relevant in the era of Industry 4.0 as it can serve as a digital twin to assist in designing strategies, interventions, and policies.
Furthermore, she added that ABM has also been developed to understand the adoption and diffusion mechanisms of gas-fueled vehicles to reduce fuel consumption and emissions. 
Since 2004, Indonesia has been an oil-importing country, with the transportation sector contributing to 70 percent of emissions. 
Therefore, the government has initiated a fuel diversification program for private vehicles by introducing gas fuel as an alternative. 
Despite the government's efforts to provide an adequate fuel supply and building infrastructure, the population has not widely adopted gas-powered cars.
"The adoption and diffusion of environmentally friendly vehicles will continue in the long term if infrastructure policies and economic incentives, including subsidies, are implemented alongside increased taxes on non-environmentally friendly vehicles. Building a perception of the safety of environmentally friendly vehicles is also important," Professor Sopha stated.
Apart from its use in understanding energy transition mechanisms and logistics systems, ABM can also be implemented in designing evacuation plans, a crucial aspect of humanitarian logistics operations. 
According to her, humanitarian logistics operations aim not only to minimize casualties using available resources but also to minimize long-term environmental impacts.
As for the Indonesian government's policy plan to adopt electric vehicles (EVs) to achieve net zero emissions, she explained that the use of EVs in Indonesia is not yet sustainable due to the dominance of coal in the energy mix, resulting in emissions from power generation in addition to vehicle usage.
"Promoting the use of electric vehicles must be accompanied by developing an end-of-life management ecosystem for electric vehicles to reduce global warming potential. Efforts to reduce other environmental impacts, such as human toxicity and mineral depletion potential, should also be considered," Professor Sopha emphasized.
According to her, academics, practitioners, and the government should work together to create an electric vehicle ecosystem utilizing a circular supply chain strategy to carry out the policy of boosting the use of electric vehicles. 
This strategy will require charging infrastructure, vehicle manufacture, EV use, end-of-life management, and adjacent businesses, including mining, electronics, and photovoltaics, in order to form a circular economic system.
Author: Gusti Grehenson
Photographer: Firsto