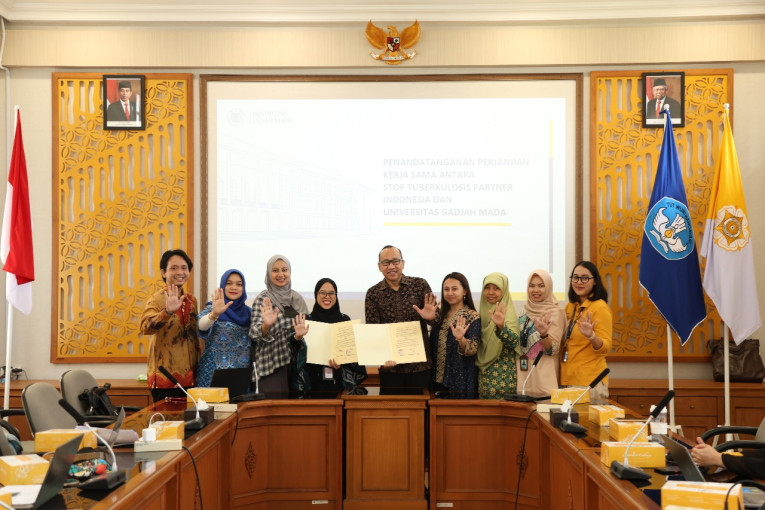 Universitas Gadjah Mada (UGM) and Stop Tuberculosis Partnership Indonesia (STPI) have partnered on tuberculosis awareness campaigns through seminars, workshops, and communication efforts. 
The agreement was signed by Dr. Andreasta Meliala, representing Universitas Gadjah Mada, and Nabila Meidina Hapsari, from the Indonesia Strategic Tuberculosis Partnership Foundation.
Dr. Meliala expressed gratitude for the collaboration, emphasizing its importance. Indonesia ranks second in tuberculosis cases; by 2030, all stakeholders have committed to reducing tuberculosis rates as much as possible.
"The biggest challenge related to tuberculosis is among young people because they may think tuberculosis is a disease of the elderly and only affects the lower class. However, evidence shows that it significantly affects the upper class and young people," he stated.
Educating young people is crucial because educating young people about tuberculosis by older generations may be less effective. That's why young people need to educate their peers.
The emergence of "IMUT" (Indonesia Muda untuk Tuberculosis or Young Indonesians for Tuberculosis) is a fitting term. IMUT is a very serious initiative, especially since it involves university students. 
When students enter UGM and become passionate about tuberculosis awareness, they will bring knowledge about tuberculosis into the community.
"As they go into the community through the Merdeka Belajar (Freedom of Learning) program, they will engage in field activities and need to know about tuberculosis. Promoting this knowledge to them is essential, and they will transmit it to the community," he said. 
"With this collaboration, the hope is that students will have a high literacy level about tuberculosis, enabling them to convey this knowledge to the community."
Nabila Meidina Hapsari also expressed her gratitude. The foundation, known more widely as Stop Tuberculosis Partnership Indonesia (STPI), was established in 2018 and was founded by the late Panigoro, who passed away in 2022. 
They continue the work initiated to eliminate tuberculosis and support the government's program to reduce tuberculosis rates by 2030.
"Tuberculosis ranks second, and this is not an achievement or pride, but it should be our collective concern. Even President Jokowi has issued Presidential Regulation No. 67 of 2021. We must enhance cooperation to eliminate tuberculosis," she emphasized.
Author: Agung Nugroho
Photographer: Donnie