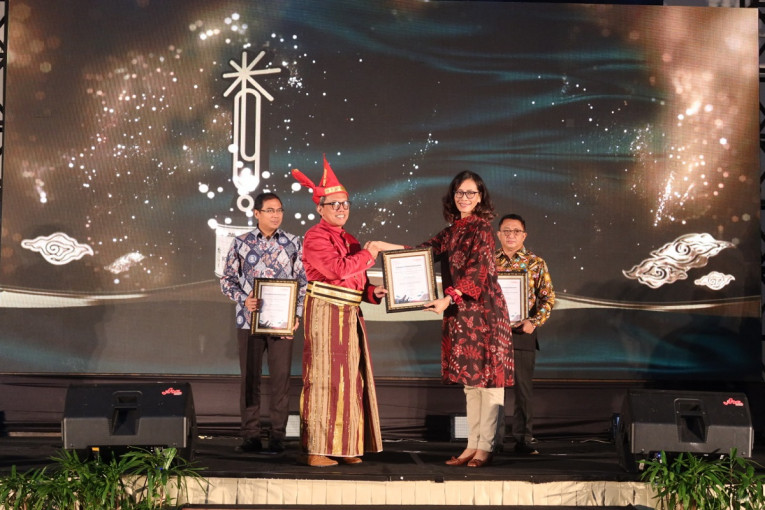 UGM has received three prestigious awards at the 1st Indonesia GPR Awards (IGA), organized by Humas Indonesia.
The three awards include two Gold awards in the Best Government Public Relations Program category in the Environmental and Climate Change Program and Health Program sub-categories and one Silver in the Best Government Public Relations Institution category in the State Universities sub-category.
Furthermore, the Rector of UGM, Professor Ova Emilia, was honored as the Most Popular Leader in Online Media Coverage in 2023.
The awards were presented by Asmono Wikan, the Founder and CEO of Humas Indonesia, and received by the UGM Secretary to the Rector, Dr. Wirastuti Widyatmanti, in Makassar on Friday (16/6) night.
"These awards are the result of the hard work of all UGM members. However, we should not be complacent because this is just the beginning for us to strive for even better achievements in the future," Dr. Widyatmanti said after receiving the awards.
She added that IGA is one of the benchmarks for assessing the quality of public relations in Indonesia, especially in the higher education sector. The awards in three sub-categories represent three areas among the many flagship programs outlined in UGM's five-year strategic plan. Moreover, this achievement is also a milestone for Indonesia to which UGM contributes.
"It is hoped that what UGM has done can serve as a role model for other universities. Additionally, it should not only be strengthened for ranking purposes but also as part of the way of life for all UGM stakeholders," she added.
Regarding the award for the Rector, Wirastuti emphasized that it is an extraordinary achievement. This is because the recognition was achieved within one year of leadership.
"Becoming the most popular leader is not simple. It meets the criteria of contemporary leadership and is significant because it serves as a role model for other university leaders," she explained.
The 2023 IGA serves as the highest benchmark for evaluating the performance of government public relations from February 2022 to January 31, 2023. The competition aims to encourage the development of strategic and contributive public relations for the positive reputation of all public institutions and state/local enterprises. This year, 110 entries from 47 institutions participated in the competition.
Several UGM alums also received awards in this competition, such as the Minister of Public Works and Housing, Basuki Hadimuljono; the Governor of Bank Indonesia, Perry Waryo; the Head of BMKG, Dwikorita Karnawati; and the Director of BPJS Kesehatan, Ali Ghufron Mukti.
Author: Astri