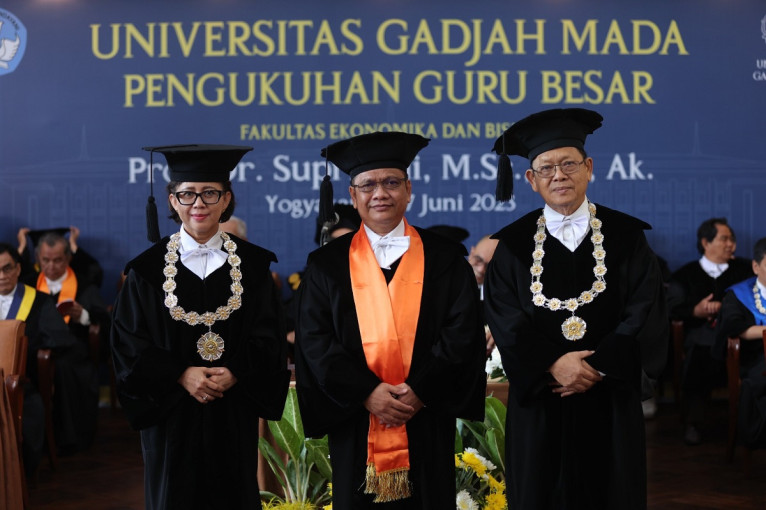 Business processes in the digital technology and Artificial Intelligence (AI) era are rapidly evolving. The dramatic digitalization of business processes presents both challenges and opportunities.
In addition, the newly-appointed professor-cum-Vice-Rector for Human Resources and Finance, Dr. Supriyadi, mentioned various consequences of technological advancements, including testing the appropriate societal norms. Business ethics violations are prone to occur in the digital industry.
According to Data Integrity Indonesia (2021) by Kaspersky Lab, which involved 26 countries worldwide, there is an indication of increasing business ethics violations in the digital industry. 26% of digital consumers in Indonesia have fallen victim to financial fraud. 
Additionally, the Directorate of Cyber Crime under the Indonesian National Police's Criminal Investigation Agency has revealed consumer losses due to e-commerce fraud amounting to billions of rupiah.
"Considering these phenomena, the financial and accounting professions need to undergo significant transformation in line with the development of digital technology," he explained in his inaugural lecture titled "The Challenge of Ethical Competence in the Digital Business Era" on Tuesday (27/6) at the UGM Senate Hall.
Accountants require more than just professional competence because their actions contribute to a company's moral and ethical culture. This part needs to be increasingly emphasized as accountants face technology-powered businesses that can impact ethical considerations. 
In the digital era, ethical dilemmas are not easily resolved as they often involve ethical perspectives, moral considerations, and different choices. This has consequences for professional accountants who need to develop their professional abilities and experiences, including ethical competence.
Furthermore, due to the interdependent development of technology, the development and implementation of digital technology must involve considerations of moral norms. Additionally, ethical principles should be taken into account to ensure the protection of stakeholders' interests.
The UGM Faculty of Economics and Business professor emphasized that ethical competence is necessary for investors, managers, accountants, innovators, and employees in the digital business era. Ethical competence is not limited to understanding ethical principles alone but must be complemented by responsibility and sustainability competencies.
Dr. Supriyadi mentioned that fully integrating these three competencies into an individual's character is complex. Nevertheless, stakeholders must possess all three competencies to ensure that the entrusted business can benefit all stakeholders, be sustainable, and not be crushed by highly dynamic environmental changes.
Author: Ika
Photographer: Firsto