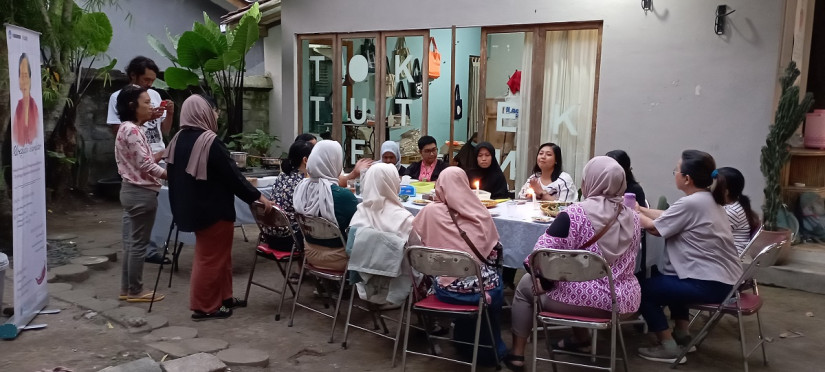 Professor Murdijati Gardjito is an academic, author, and thinker in the field of food technology and gastronomy at Universitas Gadjah Mada. 
Her research on traditional Indonesian culinary foods has uncovered approximately 3,257 dishes, divided into 1,100 types of wet and dry snacks, 150 types of beverages, 208 main dishes, and 1,800 side dishes. 
The Documentation of Works and Knowledge of the Food Technology Maestro is an event organized by the Indonesian Ministry of Education, Culture, Research, and Technology.
The event took place from Monday to Tuesday, August 21 and 22, and was divided into three agendas: a film screening at the Sonobudoyo Yogyakarta Cinema, a mini-exhibition, and a food discussion held at the Kelas Pagi Yogyakarta Gallery. 
Two hundred ninety participants attended these three activities, with 170 participants in the film screening, 110 in the mini-exhibition, and 10 in the food discussion.
Hindra Setya Rini, the initiator of this event, expressed her gratitude for the enthusiastic response from the participants. 
"Our hope for the film we've created is for it to become a record of knowledge accessible to many people and can be widely disseminated to inspire a closer connection with the younger generation," she said.
"Additionally, we hope that the food discussion can be put into practice or continued in each person's respective places by applying it to recipe writing."
Professor Murdijati Gardjito feels very fortunate that at over 80, the government, through a group of artists, has documented what she has done into a piece of work.
Concerns have been felt for a long time, as no one cared about traditional food, even though it must be realized that what forms a nation's character and dignity is the food consumed daily since ancient times. 
Typically, the young generation pays more attention to and admires things that do not belong to their own nation just because of the glitter accompanying them rather than as formative factors in their nation's character and dignity. 
Unconsciously, if what is consumed is not from the land of their ancestors, it is like building a dependency on foreign products that must be imported.
Today, everyone realizes that eating is the most important event in life. Food and meals are powerful weapons for progress and advancement that can help the nation break free from the double burden of poverty and dependence.
Given the opportunity, traditional Indonesian foods will shine on the world stage one by one because now dozens of Indonesian foods are beloved worldwide. 
"Thank you to the government, my nation, my country, my teachers, my alma mater, my students, and my assistants, who, in the hands of artists, have created a work that illustrates that wisdom, wellness, and welfare are the aspirations in our lives," the professor concluded.
Author: Rifai