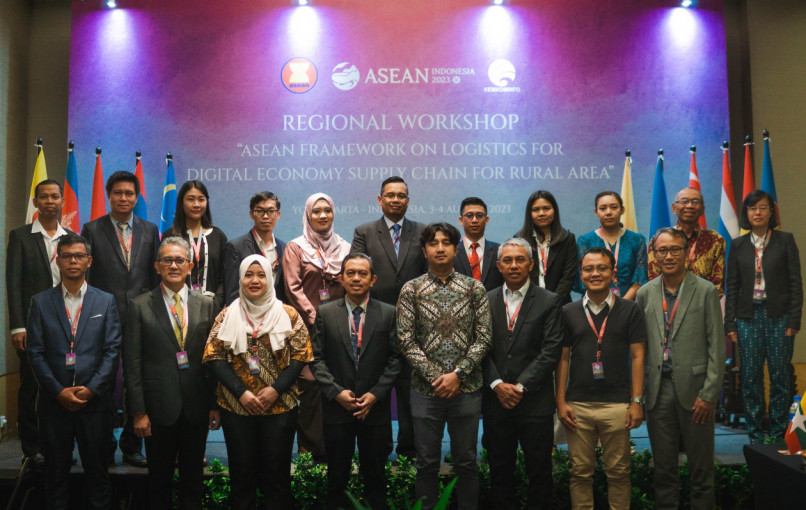 The UGM Center for Regional Development Planning Studies (PSPPR) and the International Cooperation Center (PUSKI) of the Ministry of Communication and Information Technology organized the ASEAN Framework on Logistics for Digital Economy Supply Chain for Rural Areas.
The two-day workshop, held on August 3-4 in Yogyakarta, aims to produce a non-binding agreement for all ASEAN countries regarding efforts to enhance rural logistics capacity through developing the digital sector within the framework of trade and the digital economy.
This framework is one of the Priority Economic Deliverables (PED) under Indonesia's Chairmanship of ASEAN in 2023 and is expected to be agreed upon at the ASEAN Summit in September 2023. 
The event was conducted in a hybrid format and attended by delegations from ASEAN countries, especially those responsible for formulating digital sector policies.
In order to expedite the policy framework formulation process, several speakers were invited to present on topics related to information and communication technology development (Sakamoto Mitsuhide from Japan) and rural logistics aspects and challenges (Professor Kuncoro Harto Widodo from UGM).
Isya Hanum Kresnadi from Google Indonesia addressed efforts to enhance the competitiveness and involvement of MSMEs in trade and the digital economy.
The Head of PUSKI, Ichwan Nasution, and the Head of PSPR, Professor Bambang Hari Wibisono, agreed and emphasized this activity's importance in realizing the objectives outlined in the ASEAN Digital Master Plan 2025. 
Before the workshop began, ASEC's representative for connectivity, Nhu Hai, highlighted several essential notes regarding efforts to achieve a more efficient and resilient ASEAN supply chain.
Each ASEAN delegation provided updates on current policies in the digital sector to promote and facilitate the role of the digital sector in strengthening rural logistics and enhancing the capacity of MSMEs to participate in the digital economy. 
The information shared is expected to serve as a basis for developing a draft framework to be further discussed in upcoming digital sector meetings in the following months.
Author: Agung Nugroho