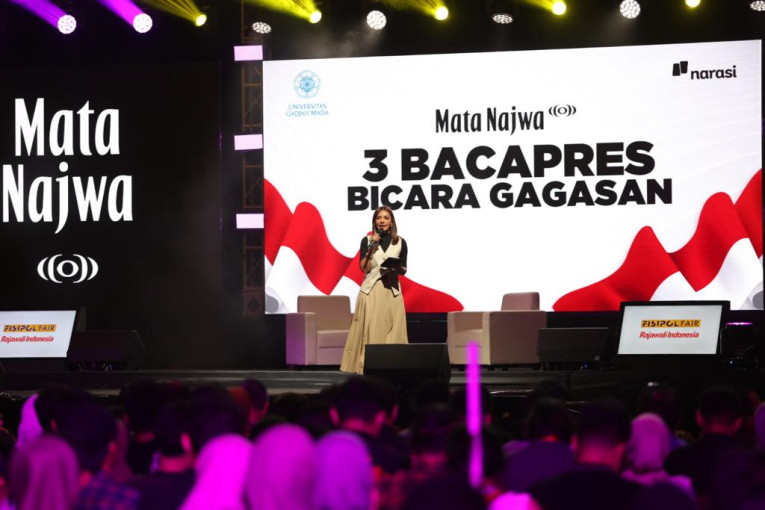 Universitas Gadjah Mada collaborated with Narasi to bring three prospective presidential candidates to Mata Najwa on Stage, titled "Bacapres Talks Ideas," on Tuesday (September 19) at Grha Sabha Pramana. 
Anies Baswedan, Ganjar Pranowo, and Prabowo Subianto took turns presenting their ideas, covering various current topics, and answering questions from the UGM academic community.
According to the Rector of UGM, Professor Ova Emilia, this event is part of the political education process, serving as the university's contribution to the maturation process and the quality of democracy.
"It is our shared responsibility to ensure that the 2024 Election is characterized by healthy and fair competition, political ethics, and a focus on programmatic politics, in line with the values of Pancasila and the constitution, to create a just and civilized society," said the rector.
During the event, Professor Emilia conveyed UGM's five national messages as the nation's educator and the first state university established by the sovereign state of Indonesia. 
One of these messages encourages all 2024 Election contestants and the entire nation to uphold Indonesian values based on people's sovereignty, diversity, multiculturalism, national sovereignty, and social welfare.
"We must commit to ensuring that political competition during the election does not undermine Indonesian values and democracy for the welfare we believe in," added the rector. 
"Elections are not just a mechanism for competing for power and authority but also the best mechanism to capture the people's agenda and the nation's progress aspirations, which can then be realized through policies."
Furthermore, she emphasized the importance of Indonesia's sovereignty and resilience in various fields, particularly food, health, and energy security; a balanced economic development strategy; comprehensive and rooted development; and strengthening Indonesia's leadership in global issues.
Anies Baswedan, the first to present his ideas, spoke on job creation to renewable energy development. He also discussed justice aspects in development and policy-making.
"We have been developing, but only some have benefitted from it. Our responsibility is to incorporate justice into all policy-making," Baswedan said.
In the second session, Ganjar Pranowo had the opportunity to present his ideas. 
Ganjar talked about the transformation of six strategic pillars: food, the environment, digital, energy, law enforcement, education, and health. He related these to Indonesia's demographic bonus and the 2045 Vision of Indonesia (Golden Indonesia).
"By 2045, a hundred years of Indonesia, at least our economy will jump from seventeenth to fourth. It will depend on us and those who sit in front of me," he told the students.
In the third round, Prabowo Subianto delivered a presentation on the nation's transformation strategy towards the 2045 Vision of Indonesia. He outlined 17 priority programs, including anti-corruption efforts, national defense strengthening, and food self-sufficiency.
"We must achieve food self-sufficiency, and I believe this is possible. If we execute it correctly, we won't just be self-sufficient; we will become the world's food barn," Subianto said.
Author: Gloria
Photographer: Firsto/Donnie