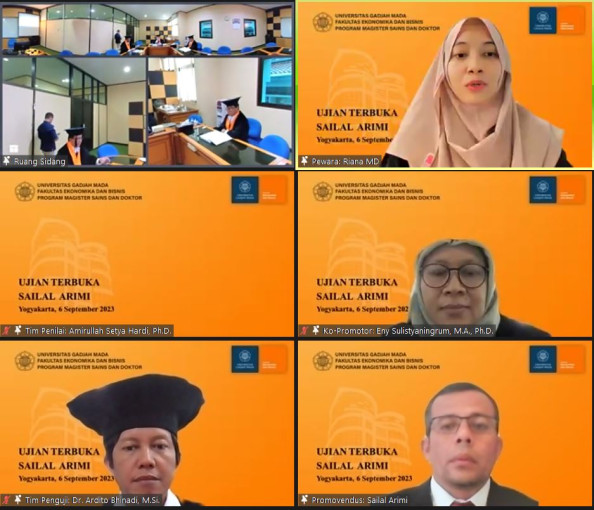 Sailal Arimi from the Nagan Raya Regency Development Planning Agency has completed the Doctorate Program in Economics at the Faculty of Economics and Business, Universitas Gadjah Mada (UGM). 
In his online defense on Wednesday, September 6, he defended his dissertation "Essays on Human Capital and Its Relation to Household Poverty in Rural Indonesia."
Arimi explained that poverty and limited human capital in education are two severe issues in Indonesia, particularly in rural areas. Until now, villages continue to be pockets of poverty in Indonesia.
On average, the educational achievements of the rural population are relatively low, with the heads of poor households in rural areas having an average of less than six years of schooling, often not completing primary education. 
Poverty and education are two interrelated factors according to the vicious circle of poverty. On the one hand, education can be a determinant of poverty, but on the other hand, poverty can lead to low educational achievements.
Therefore, Arimi's research aimed to analyze the relationship between education and household poverty in rural Indonesia. In the first stage of the study, he examined the impact of education on rural household poverty in Indonesia. 
In the subsequent stage, the study analyzed the impact of poverty on children's educational outcomes within rural households in Indonesia.
"Thus, as a whole, this dissertation attempts to analyze the phenomenon of the poverty cycle within rural households in Indonesia," said Arimi during his defense.
Arimi used the Pooled OLS estimation technique and instrumental variables (IV) in his research. The research data was sourced from the IFLS (Indonesia Family Life Survey) data, specifically IFLS-4 in 2007 and IFLS-5 in 2014. 
Additionally, the study utilized rainfall data from the Climate Hazards Group Infrared Precipitation with Station (CHRIPS) in 2007 and 2014 as an instrument for the poverty variable.
"The research results show that the head of household's education, measured by years of education and level of education, both have a significant negative impact on monetary and multidimensional poverty in rural households in Indonesia," he stated.
The study found that the multidimensional poverty experienced by rural households significantly negatively impacts children's educational outcomes, measured by test scores and years of education. 
However, monetary poverty only significantly negatively impacts test scores and does not substantially affect years of education.
The head of the household's education, measured by years of education and education level, substantially impacts multidimensional-poor families more than monetarily poor households.
"This can be observed from comparing the education coefficient obtained from both estimations," he added.
Rural households experiencing monetary poverty more substantially impact their children's test scores than multidimensional-poor households. 
This can be understood in the context of Indonesia, where the value of money is more sensitive to poor households.
"Based on the overall analysis of the study, a poverty cycle phenomenon was identified within poor households in rural Indonesia, particularly when the formation of capital indicators in rural households uses human capital measures, especially in the education dimension," he explained.
Author: Agung Nugroho