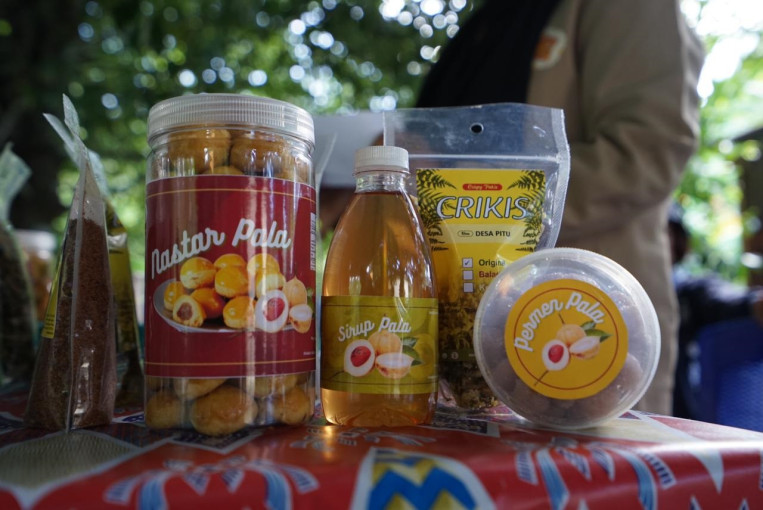 UGM students, through the Community Service (KKN-PPM) program, are helping the community create nutmeg processing innovations in North Halmahera Regency, North Maluku Province.
Muhammad Rayhan Al Ghifari, the student coordinator in Pitu Village, Tobelo District, North Halmahera Regency, stated that various innovations are being carried out to help the community process nutmeg flesh into more valuable products. 
Nutmeg, known as a native spice of Maluku, is the primary commodity of the residents, cultivated and traded for generations. Unfortunately, only the nutmeg seeds and mace have been utilized so far. The flesh of the fruit has been discarded as waste.
"Nutmeg is quite abundant in North Halmahera. We are utilizing the nutmeg flesh that the community has discarded to create various derivative products with economic value," he said while presenting the team's work programs to UGM leaders during monitoring and evaluation on Wednesday (2/8).
One of the innovations is processing nutmeg flesh into jam. This process aims to increase the value and create new job opportunities for the community. 
The economic worth of nutmeg, which had traditionally had a low commercial value, can be significantly improved by processing the nutmeg flesh into processed foods.
"We are currently in the process of helping the local community to process nutmeg flesh into jam. In the next term of community service in this regency, hopefully, there will be a program that supports the community in promoting and marketing these products to the wider public," he explained.
Al Ghifari stated that making jam from nutmeg flesh is relatively easy and practical. The nutmeg flesh must be soaked in salt water for 30 minutes and blended until smooth. The blended flesh is then cooked with sugar and cinnamon until it becomes jam.
"We provide training for making jam and instant seasoning from nutmeg. We hope the community will be willing to process nutmeg flesh into other high-value derivative products," Al Ghifari said.
The coordinator mentioned that in addition to jam, nutmeg flesh also has the potential to be processed into other products, including nutmeg candy, nutmeg pineapple tarts, and nutmeg syrup.
In addition to developing local spice products into flagship products, this student community service team is also working on developing marine tourism potential. 
They are also promoting organic and inorganic waste, producing virgin coconut oil from coconuts, and promoting the production of nutmeg for essential oil as traditional medicine.
Field supervisor in North Halmahera, Kristiani Fajar Winanti, stated that besides Pitu Village, UGM sent students to two other villages in Tobelo, namely South Gorua Village and Ngidiho Village. 
The work programs in South Gorua Village include improving mental health literacy, forming psychological first aid volunteer groups as the first protective network, utilizing local natural resources such as nutmeg, coconuts, and sea fish for derivative products, establishing a reading garden for residents, developing integrated waste management facilities, and planting 1,050 trees in the urban forest.
Similarly, in Ngidiho Village, students created a community reading garden, managed waste, built innovative waste facilities, utilized IoT for water quality detection, created disaster-prone maps, and developed village-owned enterprises (BUMDes).
"UGM students carried out many work programs in North Halmahera, with a main focus on developing local spice products and optimizing existing natural resources into flagship products," she said.
Community service in North Halmahera is carried out in collaboration with the North Halmahera Government, Khairun University, Halmahera University, and with support from the UGM Alums Family (Kagama). 
This collaboration involves 30 UGM students, 9 Khairun University students, and 15 Halmahera University students. The activities were conducted from June 23 to August 11, 2023.
Vice-Rector for Student Affairs, Community Service, and Alumni Dr. Arie Sujito stated that Collaborative Community Service connects universities nationwide to solve community problems. Collaboration is also carried out with local governments.
"Through collaboration, we can gather resources and combine strategic agendas related to community programs. When approached through partnerships, major agendas can be solved with better results," Dr. Sujito explained.
The Head of Pitu Village, James Bicoli, thanked UGM for sending students to conduct community service there. 
Various programs have been implemented, ranging from nutmeg processing to waste management, significantly contributing to community development.
"There are 17 programs that were proposed and are nearly completed. These programs will continue even after the students have returned to campus," he said.
Author & Photographer: Ika