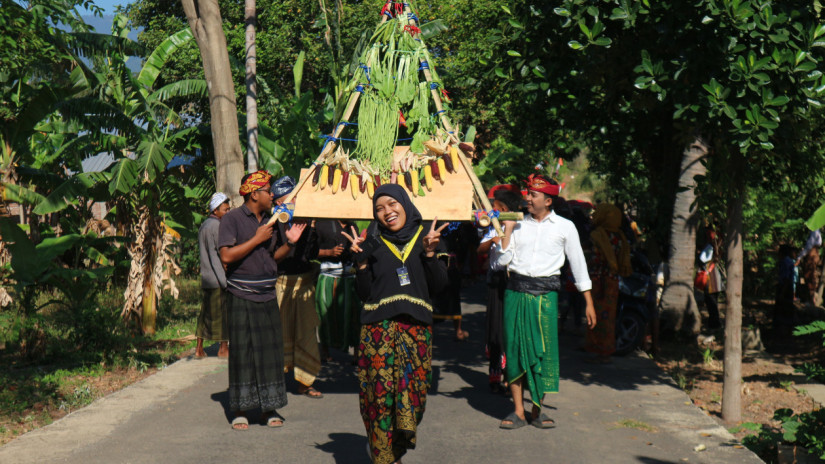 UGM students taking the Community Service Program (KKN-PPM) in Sambelia, East Lombok Regency, preserved and introduced local produce through cultural activities called "Gunungan" and "Pawai Dulangan" during the Pesona Sambelia Festival.
This festival not only showcases the beauty of local culture but also displays various agricultural products that are a source of livelihood for the surrounding communities.
One prominent element of this festival is the "Gunungan" and "Pawai Dulangan," which depict various agricultural products such as chili, corn, fishery, bananas, long beans, and onions as powerful symbols commemorating the diversity of nature and human life.
The procession of "Pawai Dulangan" and "Gunungan" occurred at TWA Kramat Suci, Sugian Village, Sambelia, East Lombok.
"Indonesia is an archipelagic nation with a diverse cultural richness that continues to captivate the world with its unique traditions," said student coordinator Muhammad Rafie on Thursday (September 7).
The festival also featured captivating and heartfelt attractions, including the "Pawai Dulangan." This parade reflects the cultural richness and traditions passed down from generation to generation.
It is a form of celebration that portrays the life, history, and identity of the people of Lombok. In this parade, the "dulangan" is beautifully decorated and placed on the heads of the bearers, who walk with pride and grace along the road from the entrance of TWA Kramat Suci to the gathering of the festival attendees.
"The dulangan is a traditional container that must be preserved because it represents a strong tradition used by the people of Lombok to store various agricultural products and traditional foods as symbols of wealth and sustenance," said Rafie.
This festival is a real example of how a festive celebration can unite culture and agricultural products.
"This festival teaches us to respect nature, work hard, and celebrate life in all its forms," the UGM Biology student added.
Supriadi, the Head of East Kokok Pedek Hamlet in Sugian Village, delved into the meaning and charm of the "Gunungan" and "Pawai Dulangan" cultures in the festival. "Gunungan" refers to a stack of agricultural products often paraded in various festivals in Indonesia.
In the Pesona Sambelia Festival, the "Gunungan" holds a profound meaning as a symbol of the balance of nature and human life. Each component represented by various agricultural products carries unique and complementary purposes.
Supriadi explained that chili symbolizes spiciness, representing challenges and obstacles in life. 
Corn symbolizes abundance and fertility, fish in the "Gunungan" represents the livelihood of coastal communities and their close relationship with the sea, bananas are considered a symbol of balance and abundance, long beans symbolize hard work and perseverance, and onions as a seasoning remind us of the importance of harmony in life.
Author: Agung Nugroho