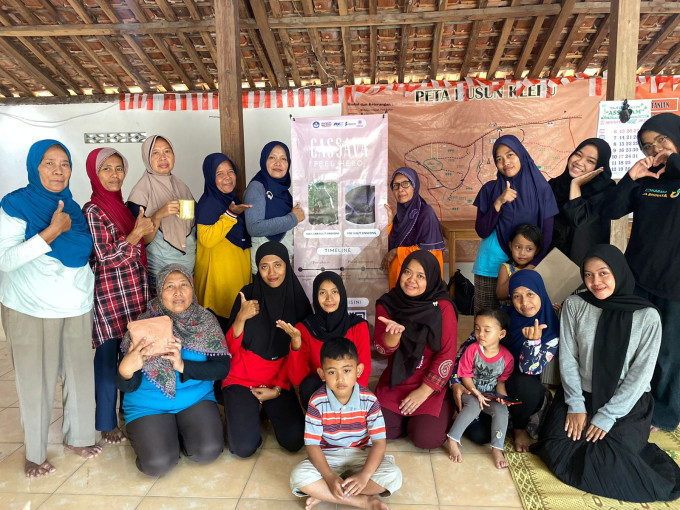 Gunungkidul, Yogyakarta, is known for having the largest local potential of cassava. However, cassava peel waste from production leftovers has yet to be utilized and is often left to pile up. 
If not managed properly, these cassava peels can harm the soil and pollute the environment due to their varying cyanide (HCN) content. Additionally, they produce an unpleasant odor in the surrounding environment.
In response to this issue, the Cassava Peel Hero team, a UGM Student Creativity Program in Community Service team, initiated a community service program focused on economically and ecologically handling cassava peel waste.
The team composed of Fathia Thaurika Rahma (Agricultural Microbiology 2021), Hafsah Dwi Nurhaliza (Agricultural Microbiology 2021), Shinta Firdha Amalia (Agricultural Microbiology 2021), Ayu Mela (Social and Welfare Development 2021), and Audi Mutia (Civil Engineering 2021).
This program took place in Klepu, Gunungkidul, under the guidance of Diah Fitria Widhiningsih. They offered an alternative solution by producing liquid cassava sugar products and liquid organic fertilizer (POC) made from cassava peels.
"We carried out this empowerment program targeting the Klepu Hamlet mothers with the hope of providing an alternative solution to the cassava peel waste problem and enhancing environmental preservation and the income of our partners," explained Fathia Thaurika Rahma on Tuesday (September 19).
Rahma pointed out that liquid cassava sugar also has a lower calorie content than other daily sugar kinds, with only 1.13 calories. This low-calorie content can serve as a sugar substitute for people with diabetes.
"Liquid cassava sugar is healthy and has a sweet taste comparable to daily sugar kinds. Cassava peel waste-based liquid sugar products can be developed into derivative dishes to increase the product's market value," she added.
Rahma further stated that cassava peel waste can be turned into liquid organic fertilizer (POC). This product is recommended as a substitute for chemical fertilizers because prolonged use can lead to soil fertility decline. 
Moreover, POC production is relatively easy, using economical and simple tools and materials, allowing the Klepu mothers to practice it independently.
She also explained that the expected outcomes of this community service activity are not only related to product processing education but also serve as a platform for self-development through the Training of Trainers (ToT), shaping the competence and self-reliance of the mothers.
Author: Ika
Photo: Cassava Peel Hero Team