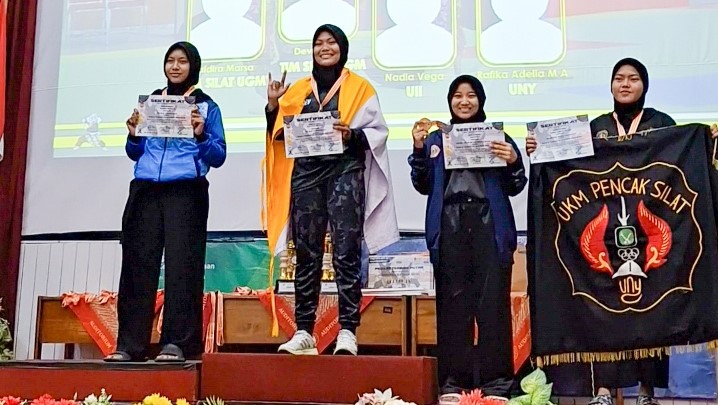 UGM students won 13 medals in the National Pencak Silat Championship held by the University of PGRI Yogyakarta from August 21 to 25. 
UGM, represented by 18 Pencak Silat Student Activity Unit members, secured three gold, three silver, and seven bronze medals.
"Of course, I'm overjoyed to have taken home the gold medal, and I'm also happy to have strong friendships with my teammates. We wish UGM Pencak Silat continued success in regional, national, and worldwide contests," said Devi Ayu Lisdiyana, a UGM English Literature student who won the gold medal in the 60-65 kg women's category.
The National Pencak Silat Championship gathers universities across Indonesia, with over 200 participants competing in various categories.
Lisdiyana explained that this championship was their third competition this year, following the Magelang Championship and the Regional Pre-PON Training. The UGM Pencak Silat members held regular training sessions to prepare themselves for competitions, often three times a week.
"Our regular training days are every Tuesday and Thursday, but as competitions approach, we train three times a week," Lisdiyana said.
Muay Thai Championship
In addition to Pencak Silat, Lisdiyana is involved in other martial arts disciplines, such as Muay Thai and Kick Boxing. On September 1, she represented Indonesia in the Soma Fight Series, an international Muay Thai competition in Bali.
This competition serves as a stage for fighters from Indonesia and worldwide to test their skills and fighting strategies. The Soma Fight Series has become a martial arts sports calendar highlight with fierce competition and challenges in each category. 
Lisdiyana is scheduled to compete against Julia Gao Miller from the United States in this competition.
"For this competition, I have been training every day. I represent Indonesia in the global arena, and the challenges are different. I hope to compete well and achieve victory," Lisdiyana said.
Author: Gloria