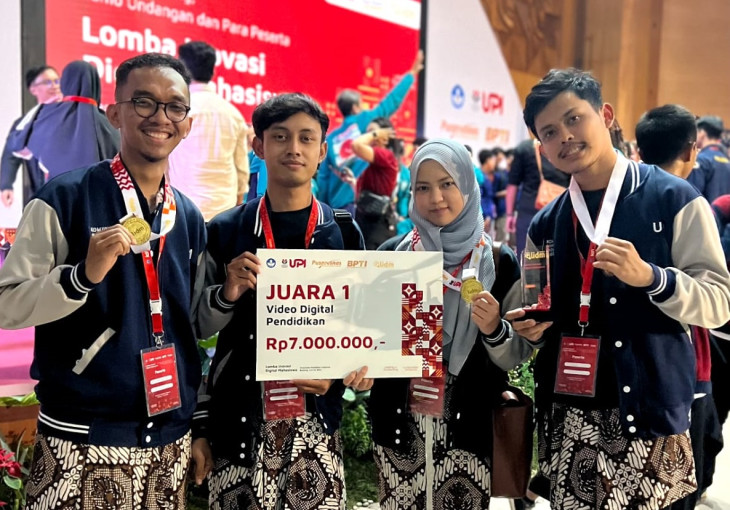 A team of UGM Faculty of Geography and Vocational College students has won first prize in the Digital Education Video of the Student Digital Innovation Competition organized by the National Achievement Center.
The winning team consisted of Adji Saidinullah, Naufal Mumtaz, Muhammad Navi Nugraha, and Amelia Dinda Savitri.
The competition occurred on July 4-6 at Universitas Pendidikan Indonesia in Bandung. The team was represented by Geography students from the 2019 cohort and Vocational College students from the 2019 cohort.
Barandi Sapta Widartono guided them in creating a video that showcased the noble philosophy of Javanese society, "Hamemayu Hayuning Bawana," a way of life that teaches people to be wise about their environment.
The video tells the story of a young man named Bayu, who discovers the essence of Javanese society by wisely preserving its nature. The video's setting was a rural area in Yogyakarta facing a drought. 
Bayu encounters an unfamiliar middle-aged man when he goes to fetch water from a nearby river. The middle-aged man approaches Bayu and leads him into the subconscious mind, narrating the meaning of the "Hamemayu Hayuning Bawana" philosophy about the ongoing drought disaster.
The story's conclusion reveals that Bayu is encouraged to plant a tree as a concrete action for environmental conservation. Shortly after planting the tree, the man disappears and transforms into a lush, large tree—afterward, Bayu startles and returns to his conscious state. 
The actors in the video were Muhammad Al-Makhzan Abdi Dzil Mahasiswa, a 2020 cohort student from the Faculty of Geography, playing the role of Bayu; Dr. Sudaryatno, a lecturer at the Faculty of Geography as the middle-aged man; and Alia Fajarwati, a lecturer at the Faculty of Geography as Bayu's mother.
Dr. Muhammad Kamal, vice dean for education, teaching, and student affairs at the Faculty of Geography, proudly appreciates the achievement. 
"Potentials like this need to be nurtured because students are creative and need space to express themselves," he stated.
"They are encouraged to develop whatever they are interested in, and in this regard, the faculty and UGM always support positive activities and student achievements. Other students can follow and learn from their seniors with national-level achievements like this."
Author: Rifai