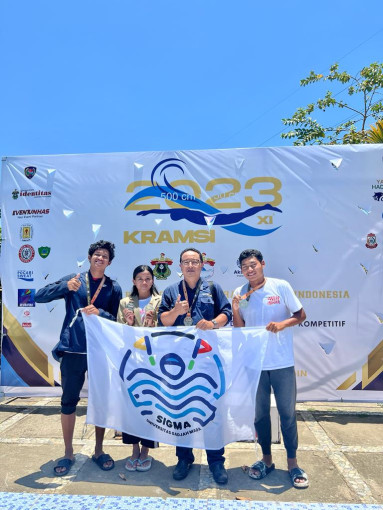 The UGM Swimming Student Activity Unit has brought home five medals from the 11th Inter-University Swimming Championship 2023.
During the September 30 to October 1, 2023 championship, the UGM team won 1 gold medal, three silver medals, and one bronze medal.
These medals were achieved by Syabilla Rizkia Putri Raharja, who won 1 gold in the 200-meter backstroke category, one silver in the 50-meter butterfly category, one silver in the 50-meter backstroke category, and one bronze in the 100-meter backstroke category. 
Abdul Aziz Tri Irza Saputra also won 1 silver in the 50-meter backstroke category.
"Congratulations, and thank you for the hard work from all who brought home the medals. Hopefully, it can inspire other people," said the Chair of the UGM Swimming Unit, Muhammad Fariz Ghifari, on Monday (October 2).
Ghifari explained that the inter-university swimming championship was attended by 78 participants from 15 universities in Indonesia, including Universitas Gadjah Mada, Padjajaran University, Diponegoro University, State University of Semarang, State University of Surabaya, State University of Makassar, Hassanuddin University, and Siliwangi University.
"UGM sent three athletes to compete in the 12 events contested. We are proud that, despite having a minimal number of athletes, we still achieved good results," he said.
In addition to their achievements at the swimming championship in Makassar, a UGM Swimming athlete, Nusa Oryza, won a gold medal in the women's 50-meter backstroke category at the 2023 National Student Invitation Championship in Jakarta in late September 2023.
Fariz hopes the achievements obtained can inspire other UGM Swimming members. He also hopes the members can achieve even better results in many other competitions.
Author: Ika
Photo: UGM Swimming Unit