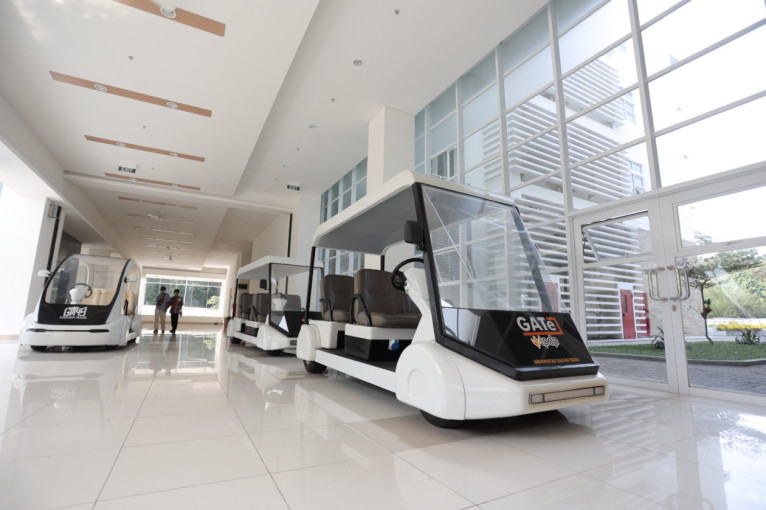 The Gadjahmada Airport Transporter Electric (GATe) developed by UGM researchers has officially been included in the national electronic catalog (e-catalog), making it easier for consumers to order and purchase this product.
The inauguration of this inclusion took place concurrently with the celebration of National Technology Awakening Day (Hakteknas) on Thursday (10/8) at the UGM Faculty of Engineering.
The GATe is an electric vehicle designed specifically for airport passenger transportation powered by electrical energy stored in a lithium battery. It has a passenger capacity of 6 and a maximum speed of 25 km/h.
The head of the GATe development team, Dr. Muh Arif Wibisono, explained that GATe has been under development since 2019 through the Productive Innovation Research Funding (RISPRO) scheme of LPDP. 
"This vehicle is electric-powered with energy stored in a battery, equipped with a 4 kW electric motor. The GATe's travel range is about 50 km and can be extended with higher specification batteries," he explained on Thursday (10/8).
In 2020, three units of GATe were used at Terminal 3 of Soekarno-Hatta Airport and one unit at Yogyakarta International Airport. Additionally, it was tested on the UGM campus and at the Borobudur temple area.
The GATe is currently being developed in three variants:
A roofed vehicle capable of carrying six passengers
An open-roofed vehicle with four passengers
A roofed car with four passengers
Dr. Wibisono stated that this airport transporter has been well-received by the market. Several requests are already from companies in Sulawesi, Solo, and Jakarta.
"The target is to produce 100 units of GATe within a year. Currently, seven units have been completed," he revealed.
One GATe unit with a capacity of six passengers is priced at IDR 200 million, while the four-passenger type is priced at IDR 180 million.
Introducing this electric vehicle is a tangible example of UGM's efforts to support environmentally friendly renewable energy. 
The development of GATe also supports the delivery of sustainable development goals (SDGs), particularly in achieving clean and affordable energy through electric power utilization (SDG 7), building resilient infrastructure, industry, and innovation (SDG 9), creating sustainable cities and communities (SDG 11), and reducing the impact of climate change from carbon emissions produced by fossil fuel vehicles (SDG 13).
UGM Rector Professor Ova Emilia, MD, appreciated the launch of GATe in the national e-catalog. She hopes this electric vehicle can benefit the community and become a source of national pride.
Professor Emilia mentioned that GATe reflects UGM's commitment to carrying out the three pillars of higher education (tri dharma) entrusted to the institution. 
UGM encourages researchers and academic communities to innovate and ensure that ideas continue growing and developing.
"The GATe is an environmentally friendly innovation that proves UGM's commitment to conducting research that society needs. We will continue to support the development of this vehicle," said the rector.
LPDP's Director of Research Facilities and Educational Rehabilitation, Wisnu Sardjono Soenarso, expressed his commitment to supporting the nation's children to become more advanced and competitive through research financing.
For example, in the development of GATe, LPDP provided research funding totaling IDR 11 billion for the 2019-2023 period. He also hopes that GATe can continue to be upgraded according to market needs. For instance, it could be developed to be lighter and faster.
"The GATe is developed using local components (Domestic Component Level/TKDN) of 34 percent. Included in the e-catalog is expected to facilitate government and business entities making purchases," the director said.
During this occasion, the vehicle was run around the campus, and an exhibition was held showcasing the product development process and production of GATe, featuring similar electric vehicle products, namely G20G, Molev, and Stadium.
G20G is a car designed to support the G20 in 2021. Two units of this product have been produced. Molev is a vehicle designed for transportation on Malioboro Street. This product is still in the prototype stage. 
Stadium is a vehicle designed to transport passengers in the football stadium area. This vehicle can accommodate up to 8 passengers.
The research on electric vehicles also includes the development of autonomous electric vehicles. An electric car that can be driven remotely has been developed in this phase, marking the beginning of autonomous electric vehicle development at UGM.
Author: Ika
Photographer: Firsto