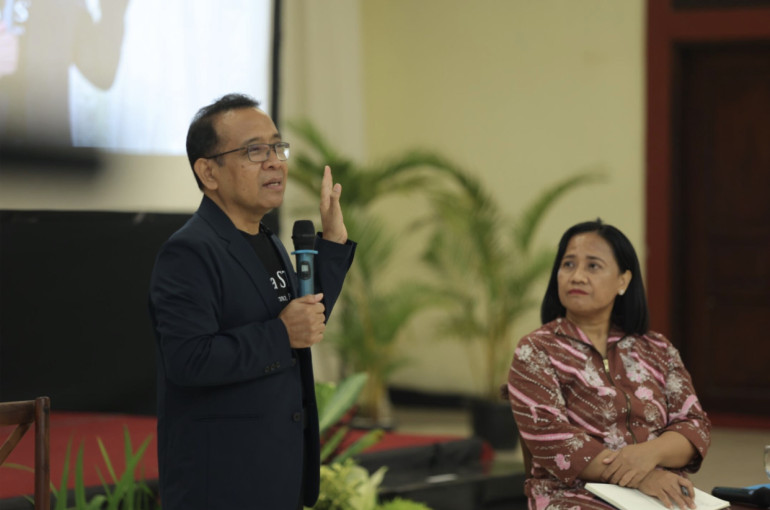 The new student hub of Universitas Gadjah Mada, Gelanggang Inovasi dan Kreativitas (GIK, or Innovation and Creativity Center), is scheduled to be completed in February 2024.
The building, situated on the former site of the UGM's Student Center and Koesnadi Hardjasoemantri Cultural Center, will be transformed into a learning facility for faculty and students to interact with the community, artists, and the business world.
Chair of UGM's Board of Trustees, Professor Pratikno, stated that the construction of GIK aims to bring industrial practices into the campus so that students have two learning ecosystems: academic learning within faculties and practical business learning within the GIK building. 
"We hope there will be enrichment and mutual complementation of education managed by academia with the concept of education mentored by the industry," said Professor Pratikno during a GIK talk show with student organization representatives at Grha Sabha Pramana on Friday (September 29). 
Also present as a speaker in the talk show was GIK's Director of Education, Fero Ferizka, and it was moderated by UGM's Vice-Rector for Education and Teaching, Professor Wening Udasmoro.
Every UGM student taking part in GIK learning will obtain a certificate recognized by the university, according to the Board of Trustees Chair. It will also serve as a work experience certificate when students seek jobs. GIK learners will develop skills and expertise on top of earning credentials. 
"Students can upskill, build startups, become more professional, and be ready to work as entrepreneurs," Professor Pratikno said.
Director Fero Ferizka mentioned that GIK offers talent development programs with 38 courses available to students from every discipline. 
"There will be 15 instructors from across professions. We use curricula from Amazon, Alibaba, or Google. It focuses more on practical aspects," Ferizka said.
The Chair of UGM's Student Executive Board, Gielbran Muhammad Noor, expressed his hope that GIK can synchronize students' knowledge with skill development in the workplace. 
"Sometimes, many people work in unrelated fields. Changing the education system to be related to the industry is a significant leap forward. In terms of inclusion, students should be able to access and utilize GIK facilities," he said.
The UGM Vice-Rector for Student Affairs, Community Service, and Alumni, Dr. Arie Sujito, stated that GIK is an initiative by UGM's leadership to construct a learning ecosystem that fosters the growth of character, creativity, and an entrepreneurial spirit.
"UGM needs to be creative and flexible in building its learning ecosystem. The existence of GIK should not marginalize but rather embrace and mutually support each other. Every student has an equal share," Vice-Rector Arie Sujito emphasized.
Author: Gusti Grehenson
Photographer: Firsto