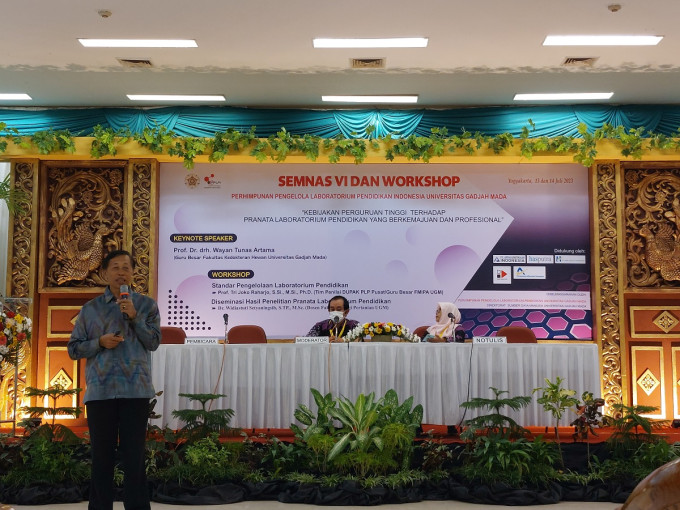 The Indonesian Educational Laboratory Managers Association (PPLPI) of Universitas Gadjah Mada (UGM) held the 6th National Seminar and a workshop on Thursday (13/7) and Friday (14/7) at Grha Saba Pramana, UGM.
The event was attended by representatives from PPLPI from various universities in Indonesia and featured keynote speaker veterinarian Professor Wayan Tunas Artama of the UGM Faculty of Veterinary Medicine.
The workshop also included presentations from Professor Tri Joko Raharjo of the UGM Faculty of Mathematics and Natural Sciences and Dr. Widiastuti Setyaningsih of the UGM Faculty of Agriculture.
Professor Wayan Tunas Artama addressed several essential points regarding trends and advancements in educational laboratories and laboratory management in higher education. 
He emphasized the importance of biosafety and biosecurity in laboratories, where success in handling viruses or outbreaks depends on the laboratory's strength in pathogen discovery, risk determination, outbreak response capacity, and human risk reduction. 
Another point discussed was controlling and preventing outbreaks, such as passive, active, sentinel, and syndromic surveillance.
The workshop, led by Professor Tri Joko Raharjo, focused on the "Standard Management of Educational Laboratories." 
He emphasized two essential points for future educational laboratory management: firstly, the competency of human resources, good integrity, the ability to operate equipment, monitor facility conditions, and infrastructure to maintain reliable laboratory management standards; secondly, the standardized procedures conducted by the managers in the laboratory, which include planning, executing, evaluating, and developing.
After a refreshment break, the workshop resumed with the second speaker, Dr. Widiastuti Setyaningsih, who presented on the "Dissemination of Research Results in Educational Laboratory Institutions." 
Dr. Setyaningsih discussed the definition of dissemination and the forms of dissemination activities, including oral and written dissemination. 
She also guided presenting research results through engaging written presentations, using data with infographics, tables, graphs, and careful word selection. 
For oral dissemination, she emphasized systematic planning to finish on time, one idea per slide, minimal reading from the presentation, maintaining eye contact with the audience, avoiding excessive text and animations, and practicing delivery.
Additionally, the event was attended by PT. Artha Genetikalab Indonesia, PT. Has Putra Indonesia, PT. Has Aneuk Nanggro, and PT. Aasiyah Al Barokah, who presented their products in support of the event.
Author: Athif