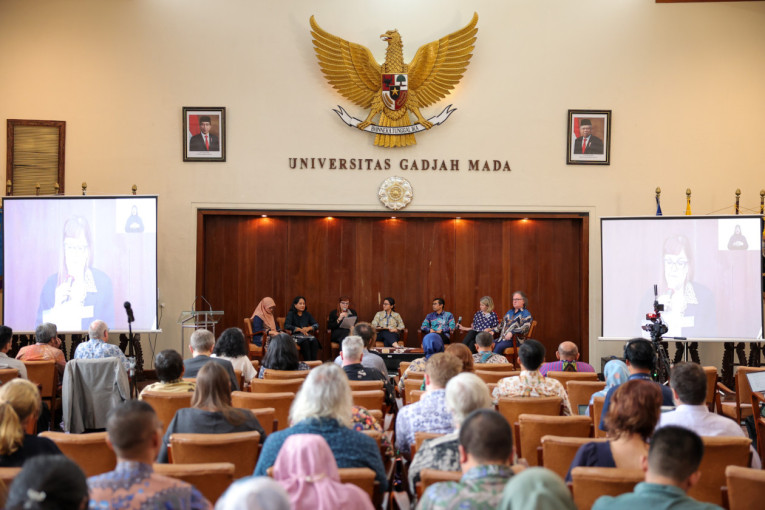 Australia recently elected new leaders through the parliamentary election in 2022 and is also preparing for a 2023 Referendum on Aboriginal and Torres Strait Islander Voice. Meanwhile, Indonesia is currently gearing up for the 2024 general elections. 
Both countries face similar political challenges on social equality and justice and pursue innovation and leadership to build more equitable and inclusive societies in the future.
This was highlighted in the 2023 Australia-Indonesia in Conversation (AIC) organized by the UGM Faculty of Social and Political Sciences in collaboration with the University of Melbourne Faculty of Arts.
Dean of the Faculty of Social and Political Sciences, Dr. Wawan Mas'udi, stated that this conference marks the tenth anniversary of the cooperation between the two parties. 
"Over the years, both institutions have been working together in various activities, including collaborative research and scientific publications, student and academic exchanges, and joint classes," said Dr. Mas'udi.
The dean explained that these two faculties discuss diverse themes every year or two. In 2021, the discussion focused on climate change and sustainability. This year is on "Respecting Democracy and Diversity: Equality, Leadership, and Social Justice."
The outcomes of the conference, involving experts from both universities, according to the dean, can provide input and recommendations for policymakers while strengthening the educational and research cooperation between the two campuses, primarily through joint programs and dual degree programs, as well as encouraging faculty and student mobility.
Deputy Associate Dean – International in the Faculty of Arts, the University of Melbourne, Professor Rachael Diprose, stated that research collaboration among Ph.D. students and staff from both campuses has enriched Australian academics with knowledge and experiences.
"Therefore, we hope this conference contributes to continuing democracy and diversity celebration while emphasizing inclusive leadership in building a fairer path for everyone in both countries," she said.
According to Professor Diprose, Australia and Indonesia face challenges in responding to emerging political changes and issues of equality and justice shaped by historical and contemporary dynamics. 
"However, as I mentioned before, there is significant innovation and leadership that we can learn from how policymakers, actors, civil society activists, the private sector, and researchers in Australia and Indonesia strive to respect democracy and diversity," she added.
She expressed hope that this conference can contribute to interdisciplinary dialogues on the issues among researchers, policymakers, and practitioners and between the two countries on how to make our world a better place, contributing to the well-being of everyone.
Universities remain sources of expertise, impact policy development, and debates, and promote greater understanding between Australia and Indonesia. 
"The Engaging with Indonesia built on our long-standing partnerships with various universities, and most importantly with Universitas Gadjah Mada, which has had a memorandum of understanding with us since 1995. Indonesia is Australia's closest neighbor and friend, and like Australia, Indonesia is a rich and diverse country with remarkable innovations from which Australia also learns," she explained.
Professor Aaron Corn, director of the Indigenous Knowledge Institute, stated that the past few years have been significant in Australian history. Like Indonesia, Australia has been grappling with geopolitical and economic instability in recent years, largely due to the impact of the pandemic. 
"Domestically, we are also experiencing our social transformation, namely grappling with the enduring legacy of Australia's colonial beginnings. And what I mean by that is the Australian Commonwealth," he said.
This year, Professor Corn stated that Australians will vote in a referendum to decide whether the voices of Aboriginal Australians are guaranteed in the Australian constitution.
He mentioned that Aboriginal Australians are the first Australians who have occupied Australia for approximately 65,000 years. But, after the British colonization in 1788, they systematically did not receive the most basic human rights until several decades in the late 20th century and even now experience levels of poverty, morbidity, imprisonment, and death far exceeding those of other people living in Australia.
The University of Melbourne strongly supports intellectual freedom for all academic staff, which is why the university council, executive board, and academic board each independently voted to support the 'Yes' campaign for the Indigenous Voices referendum to parliament.
"I also support the 'Yes' campaign because after working almost exclusively with Indigenous colleagues from various regions of Australia, including very remote areas, for the past 27 years, I can clearly see how policy mismatches and waste have eroded basic services and opportunities in Indigenous communities, and how Australia needs to return to a federal Indigenous representative system like we had two decades ago," he explained.
Through this conference, he stated that it is an honor for him and the University of Melbourne delegation to share experiences with experts and researchers from Universitas Gadjah Mada. 
"We hope to learn more about your approach to respecting democracy and diversity here," he said.
Minister Counsellor for Governance and Human Development at the Australian Embassy in Indonesia, Madeleine Moss, added that this conference coincided with the meeting between President Joko Widodo and Prime Minister Albanese in Australia a few days ago. 
According to her, from that meeting, both leaders agreed to expand cooperation in various fields as neighbors, friends, economic partners, and fellow leaders and as two dynamic democratic countries.
In her view, one clear priority for Indonesia is inclusive development, which is also the case for Australia. Regarding democracy in Indonesia, she considered it to be strong, resilient, and independent. Although there are differences in the democratic systems between Australia and Indonesia, they share several fundamental strengths. 
"We both value and have a strong history of free and fair elections. We have independent electoral bodies, the KPU in Indonesia and the AEC in Australia. And we have impartial judiciaries and a strong political culture that reaches down to the national government level. We have decentralized governance and governance systems. Now in Australia, we know that this system is not perfect. You may also find many people in Indonesia who find aspects of the system challenging. When I travel around Indonesia, I am always impressed by the quality of leadership at the local level, especially in terms of the commitment to inclusion, which is truly remarkable," she explained.
Strong decentralized leadership and its contribution to inclusive development and inclusive democratic practices are characteristics shared by Australia and Indonesia. 
"I think this is not unrelated to the role of civil society in policy-making and the roles of civil society actors in supporting democracy," she concluded.
The AIC was held for two days, July 5th-6th, 2023, and discussed various topics, including promoting social inclusion and addressing inequality in dynamic environments, related to political programs in upcoming elections in Indonesia and recent political changes, as well as new policy platforms in Australia, and exploring how young people can drive change and support the overcoming of inequalities.
Experts also explore contemporary challenges and innovations in advancing gender equality in Indonesia and Australia.
Authors: Gusti and Salma
Photographer: Donnie Tristan