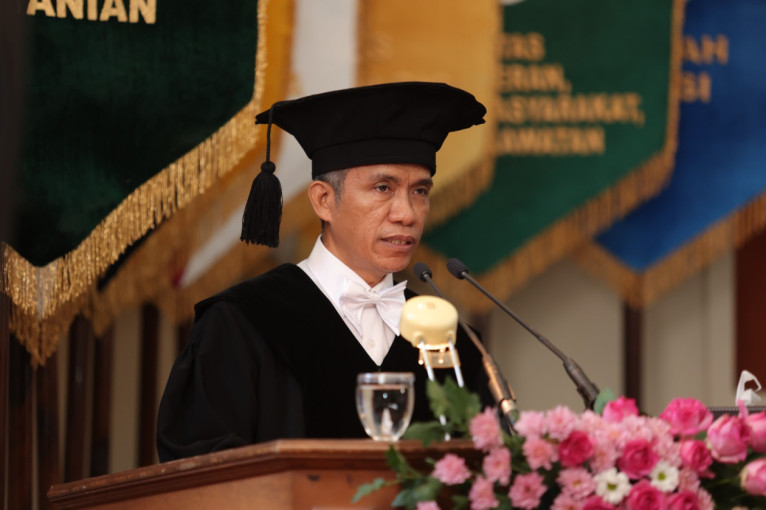 Research in recent years has shown that seaweeds have the potential to provide new bioactive compounds and substances needed for human nutrition and health. 
Brown seaweeds (Phaeophyceae) have an abundance of specific nutrients and phytochemicals, including polysaccharides, polyphenols (phlorotannins), pigments (fucoxanthin), vitamins, and minerals.
Although they have numerous health benefits, the general public consumes these seaweeds primarily not for these benefits. The utilization of seaweeds is usually based on tradition and personal preference.
"Unfortunately, until now, the cultivation technology of brown seaweeds in Indonesia has not been widely mastered, resulting in the availability of brown seaweeds as raw material being highly dependent on nature and the seasons," said Dr. Amir Husni, the newly promoted professor of fisheries product technology, at the UGM Senate Hall on Tuesday (13/6).
In his inaugural lecture, Professor Amir Husni stated that brown seaweeds' nutritional content and secondary metabolites depend greatly on species, harvesting age, and environmental factors such as season, temperature, salinity, ocean currents, waves, and even depth. 
However, as raw materials for industries, seaweeds must meet specific criteria, including good quality, easy availability, continuous supply, ease of processing, and relatively low cost.
Furthermore, to be developed as a functional food product, the seaweed used as a raw material must be free from heavy metal contamination and other pollutants and contain high levels of bioactive compounds and nutrients. Poor quality raw materials will affect the content of bioactive components and the processing.
"Therefore, seaweed farmers need to apply good cultivation standards and post-harvest handling," he added.
Professor Amir Husni mentioned that brown seaweeds could become a functional food product if processed correctly. However, the processing technology must not damage the bioactive components contained.
Based on numerous studies, seaweeds, in general, can enhance the nutritional value of food products by increasing dietary fiber content and/or minerals, as well as other active ingredients. 
However, further processing is needed to ensure the compatibility of seaweed used with the overall food matrix. This includes the seaweed itself and the combination of seaweed with appropriate ingredients.
"To convince consumers of the benefits of brown seaweeds as a food and health product source, more evidence is still needed through intervention studies in humans. We need to evaluate the nutritional benefits and the efficacy of its claimed bioactive components," he explained.
He emphasized that mechanistic evidence is crucial to prove the claimed health benefits of seaweeds. For example, although brown seaweeds have great potential as an antidiabetic agent, clinical trials are still minimal. 
Therefore, further research, especially clinical trials, is needed to demonstrate that compounds from brown seaweeds can be used as ingredients in treating type 2 diabetes.
Additionally, despite some studies on the hypocholesterolemic effects of brown seaweed extracts and isolated compounds, further research is necessary to understand in detail the mechanisms involved in cholesterol metabolism. 
It is essential to investigate whether compounds from the reported brown seaweeds have the capacity to influence the expression of different proteins related to cholesterol metabolism.
"More detailed research is needed on the consumption effects related to brown seaweeds and the potential interactions and side effects when consumed with prescribed drugs," he elaborated.
The professor revealed that the availability of processed seaweed products in Indonesia is still very limited, especially functional food products. The processing of seaweeds into food or beverages is mainly carried out by household industries, resulting in the low competitiveness of Indonesian seaweed products in the domestic and global markets.
"Moreover, the slow growth of seaweed-based investment is also a challenge in the seaweed industry in Indonesia," he added.
Despite these, Indonesia possesses a vast diversity of seaweeds, making it among the largest in the world. According to data from the Ministry of Marine Affairs and Fisheries, Indonesia's seaweed production reached 9.12 million tons in 2021, with a production value of 28.48 trillion Indonesian rupiahs. This value represents a 6.89% increase compared to 2020, which amounted to 26.65 trillion Indonesian rupiahs (KKP, 2022).
These figures make Indonesia the second-largest seaweed producer globally after China. However, the optimal utilization of Indonesian seaweed has yet to be achieved, particularly in its use as raw material for functional food products.
"Functional food refers to regular food products consumed as food and beverages that can provide health benefits due to their nutritional content. Despite the abundant seaweed resources in Indonesia, approximately 75% are exported as raw dried seaweed, and only about 25% are processed or used as raw materials for domestic industries," he revealed.
Various studies have shown that regular seafood consumption, including seaweeds, provides many health benefits and contributes to a longer lifespan. Therefore, there is an increasing interest in producing and consuming seaweed derivative products in Europe.
A report from SeafoodSource shows that the global seaweed market is expected to grow to 22.1 billion US dollars by 2024. Meanwhile, the launch of new seaweed-containing products in the European market between 2011 and 2015 increased by 147%, making Europe the most innovative region globally after Asia.
"Currently, among the three groups of green, red, and brown seaweeds, the brown one is the most consumed type, accounting for 66.5%, followed by red seaweed at 33%, and green seaweed at 5%. Brown seaweed (Phaeophyceae) is considered to have high levels of diverse phytochemicals and has repeatedly been claimed to possess important therapeutic properties, making it a good candidate for use as a bioactive agent in many industries, including the functional food industry," he concluded.
Author: Agung Nugroho
Photographer: Firsto