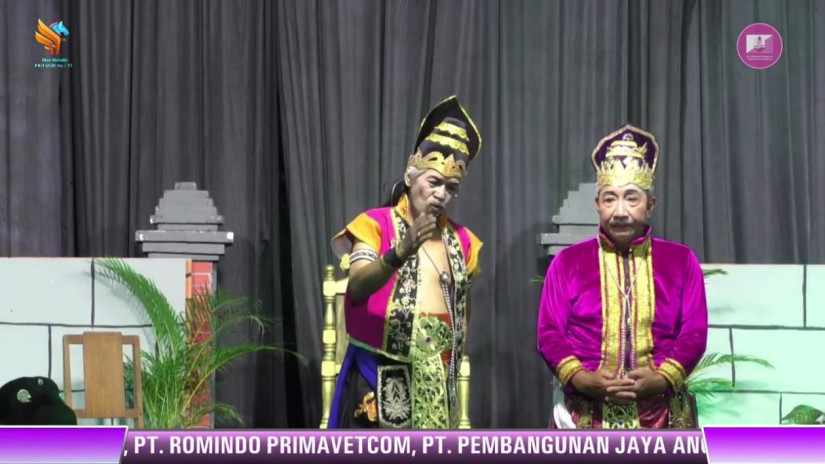 For over 70 years, the UGM Faculty of Veterinary Medicine has stood and contributed to the birth of ideas and new generations in the health field. 
To celebrate this dedication, the faculty organized an alumni gathering as part of the festivities for its 77th anniversary celebration on Saturday (September 16). 
The performance, titled "Vethoprak Humor: Lutung Kasarung," was attended by the faculty's academic community, alumni, and students.
"On this occasion, our theme is a reunion. So, after meeting, we can miss each other. We are enjoying this moment as the 77th anniversary of our faculty. We are conducting enjoyable activities. First, singing, and then later, the ketoprak performance," said Committee Chair Nur Sapto Hidayat.
"From this afternoon until tonight, we will express our happiness that our faculty has reached this milestone. This is indeed a mature age to realize animal health; in the future, we can face various challenges related to animal diseases."
The faculty's birthday celebration featured various captivating performances, including dances, choirs, and wayang (puppetry). Kagama Beksan, an art unit initiated by UGM alumni, presented the opening dance performance, "Tari Dombanini." 
Subsequently, alumni from various generations added to the festive atmosphere. This synergy of the UGM Alums Family (Kagama) deserves praise since, amid their busy schedules, each person took a moment to gather and foster connections while reminiscing about the past.
In the evening, the event's highlight was the performance by Karawitan Sekar Gendhing from Karawitan Satolaras Budaya and the humorous ketoprak performance written by Agus Marsudi. Not only that, Ki Dandun Hadi Witono also appeared as a puppeteer, narrating an engaging story.
"This humorous ketoprak is unique because it features performers who are professors, officials, and academics. So, smart people participate in rewriting the script. Hence, it's called participatory and democratic ketoprak," explained Agus Mulyadi, the scriptwriter.
Dean of the UGM Faculty of Veterinary Medicine, Professor Teguh Budipitojo, welcomed the alumni. He expressed his delight and gratitude for the extraordinary enthusiasm of the audience.
"This truly reminds us that the UGM Faculty of Veterinary Medicine is our shared home—a home where we want to drop by occasionally. I hope we will meet again at the same event, at future anniversary celebrations in the coming years," Professor Budipitojo said.
"We have been organizing activities that involve traditional arts since the previous year. So, we presented puppetry all night long before. Now, we bring you humorous ketoprak that will entertain us all."
Author: Tasya