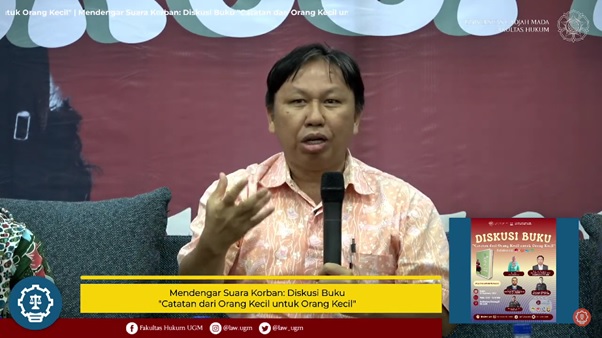 Land conflicts involving communities, the government, and industries have no end in sight. The absence of official land certificates for traditionally-owned land is often cited as a reason for companies to take over community lands. 
The struggle of communities to gain land rights has been a long and, in some cases, multi-year process. One such fight is led by Mrs. Kawit, a witness to numerous evictions, which she documented in a book titled "Notes from the Commoners to Fellow Commoners" (translated literally from its original title Catatan dari Orang Kecil untuk Orang Kecil).
"In 2007, I witnessed the demolition of seven houses using heavy machinery. The residents were still there, and the demolition was carried out as a sample of the Parangtritis eviction," Mrs. Kawit began her story during her book's discussion at the UGM Faculty of Law on Thursday (September 21).
"Then, in 2008, to the west of Karangbolong, there was another eviction. Hundreds of houses were demolished, and residents were not provided alternative housing."
"Next, in Parangkusumo, 117 houses were also demolished. With the promise of receiving 1,300,000 IDR for the demolition, the residents decided against resisting since they believed they would lose."
Mrs. Kawit initiated the struggle to secure land rights for the residents by forming the Alliance of People Rejecting Evictions (Aliansi Rakyat Menolak Penggusuran/ARMP). 
She acknowledged that 11 student organizations had supported ARMP by participating in protests at the Yogyakarta Governor's office. 
"Shortly after, I learned of the arrival of another letter—an order for demolition, supposedly part of the Gumuk Pasir restoration project. The movement became more difficult with the emergence of pessimism among fellow residents," she added. 
"Seeing no results from what the residents had been demanding for so long, many residents tended to give up and struggled to find new places to live."
"I once dreamed of constructing a prayer room if I became wealthy. Now, I have a special studio for underprivileged children in my area. But seeing the current situation, I want to fight harder for the community's rights."
"At that time, the ARMP received support, and there were even attempts to dissolve the organization."
She believes that the organization she founded should be purely for the community and should not be influenced by any political party.
Rikardo Simarmata, a Customary Law Expert at UGM, pointed out that various developments often neglect other aspects of the land, such as its historical and spiritual significance to indigenous communities. 
"Indonesia is prepared with concepts to address threats to humans and nature. What threatens nature is a relatively new development. Free people from the threat of abuse of power or political power," Simarmata said.
"So, when there is a land conflict, it shouldn't just be about what one party or the other gains, but nature should also be a consideration."
Mrs. Kawit's case and the ARMP represent just one of the thousands of land dispute cases that continue to reach a dead end. Power relations, the oppression of one party over another, and the lack of legal certainty are the main obstacles to resolving these cases. 
Further research into agrarian law is needed to provide equal rights to all parties without generating endless resistance movements from the community.
Author: Tasya