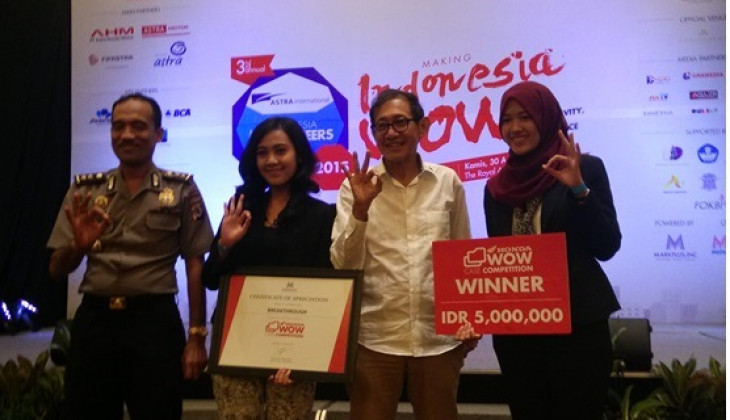 Economics and Business students team of Universitas Gadjah Mada joining the Breaktrough team has made an achievement by becoming the best team in the Honda WOW Case Competition held from 29-30 April 2015 at Hotel Royal Ambarukmo, Yogyakarta.

The students consisted of Nabila Nur Fajrina, Indriari Vega Tyassanto and Nadya Gudono. ""We won it after delivering our programme that supports customer engagement from Honda products," Nabila said on Monday (11/5).

Nabila explained the Honda WOW Case Competition is a competition for students across Indonesia for making innovative strategy to a company. Run by Astra International in collaboration with Marketeers magazine, it aims at drawing attention of the young generation to improve their marketing skills.

"This competition is a part of a series of Indonesia Marketeers Festival (#IMF2015) with the host Hermawan Kartajaya from MarkPlus Inc.," she added.

Initially, the team produced a paper which was assessed by a team of juries that later selected five papers to be presented in front of them. The said teams were from UGM (2), Universitas Islam Indonesia (UII), and STIEBANK. The Breakthrough team won IDR 5 million.