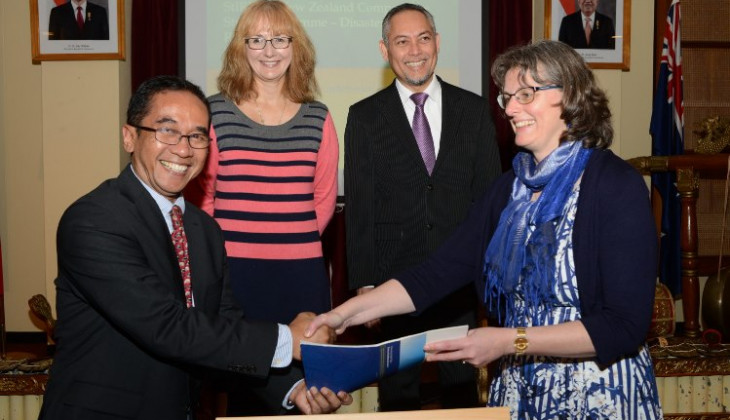 UGM in collaboration with GNS Science conducted a comparative study in disaster area for regional governments and parliaments as well as partner universities in New Zealand from 6-18 June 2015. This is part of a series of the StIRRRD (Strengthening Indonesian Resilience: Reducing Risk from Disaster) project supported by New Zealand Ministry of Foreign Affairs and Trade (MFAT). The delegation is led by Vice-Rector for Cooperation and Alumni, Dr. Paripurna Sugarda. Agencies from Pesisir Selatan, Bengkulu, Donggala and Mataram join the event.

Those universities include Universitas Andalas, Universitas Bengkulu, Universitas Tadulako, and Universitas Mataram. The central government representatives are Director for Disaster Risk Reduction from the National Disaster Mitigation Agency, National Planning and Ministry for Rural and Underdeveloped Regions and Transmigration.

Chairman of StIRRRD from UGM, Dr. Teuku Faisal Fathani, said the good relations between Indonesia and New Zealand would be enhanced through disaster risk reduction collaborations. In the next five years, StIRRRD will work with 10 regencies/municipalities, in four provinces (West Sumatra, Bengkulu, Central Sulawesi and West Nusa Tenggara).

He added that "UGM supervises those regions in drafting and implementing act plans in disaster risk reduction."

The delegation during the comparative study visited Christchurch to learn how New Zealand re-built the city after the earthquake in 2010 and 2011. Further, they visited Wellington to see how New Zealand built resilience and make preparations against possible earthquake, tsunami, landslide, and flooding in the capital that lies in the disaster prone area. Also, they went to Taupo and Rotorua to see volcanic disaster risk reduction.

In the event that followed, an extension to the MoU between UGM and GNS Science was signed for 2015-2017 between the UGM Vice-Rector and Dr. Gill Jolly (GNS Science), witnessed by Indonesian Ambassador, Jose Tavares, and Tiffany Babington from MFAT.