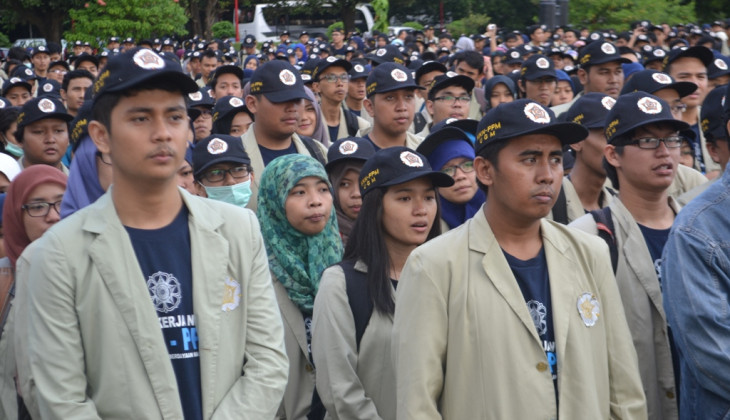 YOGYAKARTA - Universitas Gadjah Mada sends 6,559 students for Student Community Service – Community Empowerment programme. They will go to 27 provinces and 106 regencies/municipalities across Indonesia for two months.

UGM Rector, Prof. Ir. Dwikorita Karnawati, M.Sc., Ph.D., said the programme had started in 1971. The Rector said when briefing the students in the courtyard of Grha Sabha Pramana building (1/7) prior to the dispatch that the Student Community Service programme had to be attended by all UGM students before graduating. The programme each time offers a particular theme.
"Since 2006, the Student Community Service is based on a certain theme, for example, illiteracy eradication or disaster mitigation," she said. The theme of the programme can be conducted every year to ensure sustainability.

She said some student teams would be dispatched to border areas such as Entikong in West Kalimantan and Atambua in West Nusa Tenggara. ''In Atambua they would do conflict resolution, also in North Kalimantan and areas bordering Singapore," she confirmed.
Those students will be assigned to the Molluccas, Papua, West Papua, Sumatera, Kalimantan, Greater Jakarta, Central Java, Yogyakarta, Sulawesi, West Java, West and East Nusa Tenggara, Riau islands, Bangka Belitung, Banten, Bali, and East Java. In addition, there are 24 international students at UGM and 49 students from overseas joining the programme; they are from Universitas Teknologi Malaysia, Hanseo University Korea, Shizuoka University, Aoyama Gakuin University, Ibaraki University, Queensland University and Lehigh University.

Social Minister Khofifah Indah Parawansa who attended the briefing ceremony said there were many social problems in border areas, such as early marriage or doing trade with neighbouring countries. In her opinion, cultural differences would also be a source of learning for UGM students. "This will be a remarkable learning forum for you all," she said.
Andreas Suhono, a director in Public Works and Housing Ministry, expected the programme would benefit the community living in border areas.
In the same occassion, the Rector and Social Minister witnessed the launching of books totalling 25,520 to be distributed freely to the locations of the Student Community Service programme.