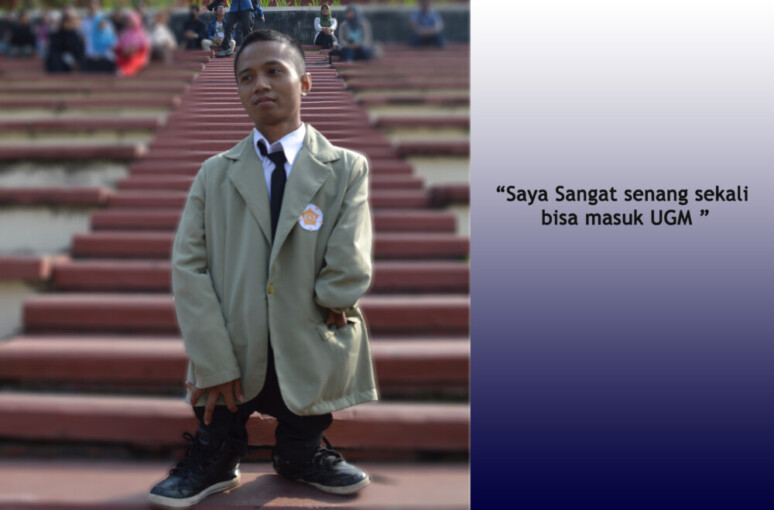 Standing among 9,536 new students of Universitas Gadjah Mada, Aldo Meyolla Geraldino, looks just like any other students. But who would have thought that the Faculty of Medicine student is still a young boy? He is still 14 years and seven months old now.
"I was happy to get accepted at Faculty of Medicine UGM. (I turned out to be) the youngest, I think it's all due to acceleration classes," said Aldo at the courtyard of Grha Sabha Pramana on Tuesday (18/8)
Aldo said he finished all his studies through acceleration programme.

"It all started when I was two years old, I was admitted to a play group, at three I was at kindergarten, and five at elementary school already. When I finished third grade, there was this acceleration test, so I completed the fourth, fifth and sixth grades in only two years' time. I passed elementary school at the age of ten eventually," said Aldo who was born in Surakarta on 19 December 2000.
Also at SMP Negeri 9 Surakarta and SMA Negeri 1 Surakarta (junior and senior high schools), Aldo had the opportunity to do an acceleration so both schools were completed in only four years, thus he graduated at 14.
The son of Masoed and Christina Murtini said he did not have special tricks and tips for his academic success.
"I did make a routine schedule of study at night, although at different times according to convenience. What is important is that I enjoy what I do," said Aldo.
Admitted at UGM through the SBMPTN mechanism, Aldo's grades for natural sciences were always above 9, Biology 9 and Chemistry 9.8.
"I applied for Medicine sciences because I had dreamed for it since I was younger. But I do like science and research, then biology. Later in life I would like to serve the people," he said.
Not only academically bright, Aldo also plays some musical instruments such as guitar, drums, and bass guitar. He plays the music with his friends joining the Star Boy group that has also made several shows.
"My dad has a music studio, Studio 17, in Surakarta," he concluded.