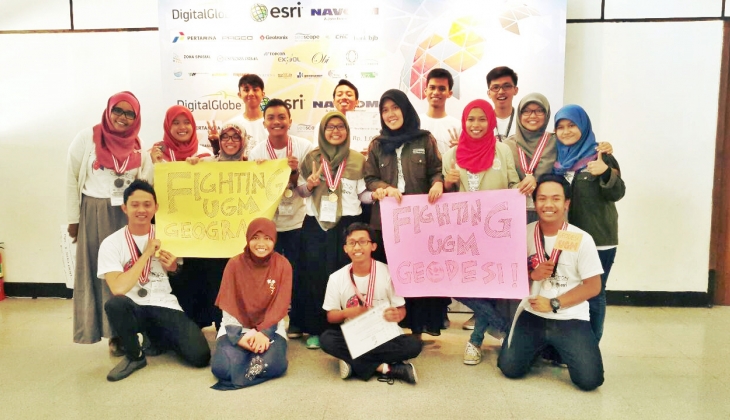 UGM students have earned awards in the Geography Information Sytem Student Competition in Bandung, 13 August 2015 lalu. The UGM students brought home gold and bronze medals in the GIS Olympiad category.

The Geodesy students consisting of Farikhotul Chusnayah, Larassita Ninda, Kholqi, Azam R. have earned gold whilst Cartography and Remote Sensing students (Sri Lestari, Eni Susanti, and Gin Gin Gustiar) earned bronze.
Larassita said participants had to do a written test and field observation.

"Each team is tested on geographical information system, spatial analysis, interpretation skill as well as map and image reading, physical and social geographical, and geograhical general knowledge," she said on Wednesday (26/8) at UGM.

Three best teams were selected to go to the finals in which they had to do a quizz.

ITB-ESRI GIS Student Competition 2015 is a competition initiated by universities that have Geodesy study programme in cooperation with software and Web GIS companies, ESRI. The event is part of a series of 65th anniversary celebration of the Geodesy science education in Indonesian universities.

To mark the anniversary, there are also student congress, curriculum workshop, national seminar, Lecture Series, Open Scientific Meeting, and Geospatial Industry Expo – Technological Presentation.