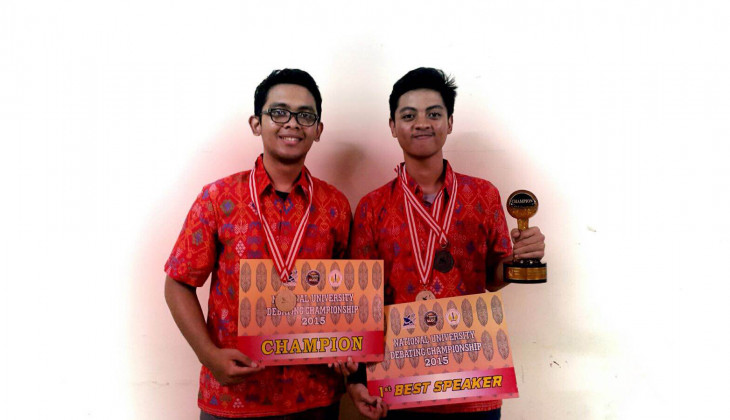 UGM's English Debating Society (EDS) has won the National University Debating Championship (NUDC) 2015 in Pontianak from 19-24 August 2015. The team won all nominations, which are first breaking team and co-best speaker.

With team members Romario Tambunan (Law) and Alif Satria (Social and Political Sciences), the team competed first in the regional competitions and in the national level competed with 113 teams from universities across Indonesia. They passed 7 preliminary rounds and won the first breaking team.

"Winning in this selection stage, we are entitled to have the ticket to the World University Debating Championship in Thessaloniki, Greek," said Romario on Tuesday (8/9) on campus.

Their struggle did not stop there. They competed in the elimination, octofinal, quarterfinal and semifinals. Finally, they went through to the grandfinal along with the teams from University of Indonesia, Universitas Atma Jaya, and Universitas Brawijaya.

With the motion THW Create a Truth and Reconciliation Commission on 1998 Tragedy in the final round, both students beat their competitors and thus, won the championship, followed by Universitas Atma Jaya Jakarta and University of Indonesia.
They also won co-best speakers with balanced speaker scores.

"Hopefully, in the next WUDC we can do our best and make good achievements," he said.