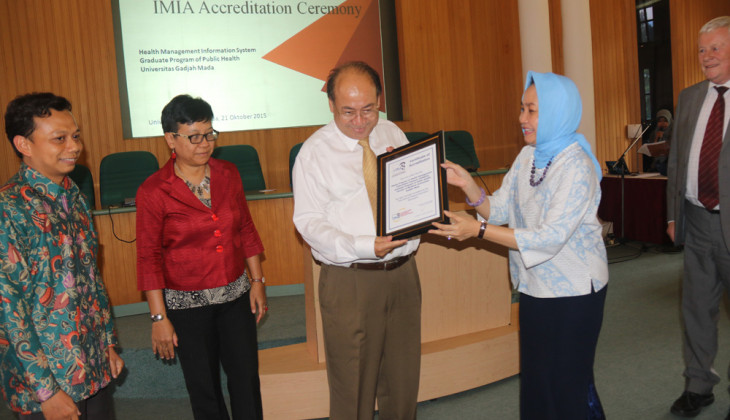 UGM's Information Systems Health Management interest of Public Health Science study programme in graduate level has been accredited by the International Medical Informatics Association (IMIA), making it the first university in Indonesia that earns the IMIA accreditation. IMIA is an international accreditation agency based in Geneva, Switzerland, for health and informatics biomedicine in higher learning.

The accreditation is presented by Vice-President of IMIA, Prof. A.Hasman, to Rector of UGM, Prof. Ir. Dwikorita Karnawati, M.Sc., Ph.D., on Wednesday (21/10) at the Multimedia room of UGM Main Office. Also witnessing the event are Vice-Dean, Prof. dr. Adi Utarini, M.Sc, MPH, Ph.D., Secretary of Study Programme, Dra. Yayi Suryo Prabandari, M.Sc., Ph.D., and Head of Information Systems Health Management, dr. Luthfan Lazuardi, Ph.D.

The Rector expressed her pride following the accreditation, hoping that the achievement would not stop them to increase quality in academic and research endeavours.

"This accreditation is just a start, in the future we have to be more serious in improving the quality," she said.
Dwikorita said UGM had the mission to become a world class university that implements education, research, and community service. The accreditation has significant impacts on improved education and research to be implemented for state development.

Vice-President of IMIA, Prof. A.Hasman, said the accreditation was granted to UGM after one-year assessment with visitation done by Prof Siaw-Teng Liaw (UNSW, Sydney), and Prof. KC Lun, (NUS Singapore), doing assessment report, interview, and thesis inspection.

"We would like to congratulate UGM for this accreditation, hopefully this can increase its competitive power in the world level," he said.

dr. Luthfan Lazuardi said the accreditation proved that UGM has equal quality with others. In the world, University of Eastern Finland, University of Gottingen, Germany, and Taipei Medical University, Taiwan, have previously received such accreditation.