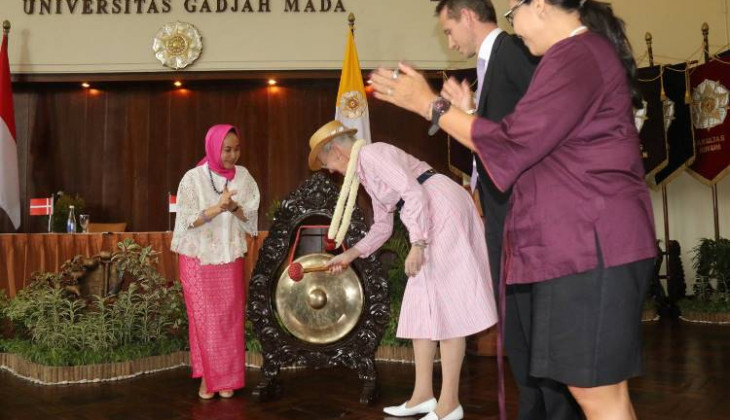 Queen of Denmark, Margrethe II, accompanied by Danish Foreign Affairs Minister, Kristian Jensen, visited Universitas Gadjah Mada on Saturday (24/10). In her visit, the Queen opened a Joint Lecture related to inovative cooperations for the 21st century entitled Denmark's Political and Commercial Relationship with Indonesia, ASEAN, and Asia, located at the Senate Hall. UGM members of community attended the event.

In her remarks, Rector of UGM, Prof. Ir. Dwikorita Karnawati, M.Sc., Ph.D., said the visit made by the Queen of Denmark was not only an official meeting but also a cultural interaction between the two.

"The visit will strengthen the collaboration and cooperation between us in the future," said the Rector.

According to Dwikorita, there are many similarities between Indonesia and Denmark, especially in culture and maritime affairs. The Rector hoped the visit would increase research collaborations between UGM and Denmark.

"Not only do we produce qualified publications, but also practical solutions to state problems. Therefore, we hope this collaboration will contribute not only to Indonesia and Denmark, but also the world," she added.

Minister Kristian Jensen mentioned in the lecture among students the excellence of Indonesia, ASEAN, and Asia in the 21st century. Denmark considers Asia – including Indonesia - a source of world power.

"In the future, it is the students that will develop and implement this cooperation," Minister Jensen expressed his hope.

In her visit, Queen Margrethe II also observed some works by UGM students, including Documentation Video of UGM Community Project 2015 Get Award From UNESCO, Savinna, Gadjah Mada Aerospace Team, Wemary.com, Calova, Wisful.org, Sago Cake: Increasing The Selling Value of Sago Commodity for Better Community Papua, Gamaforce 2, pijarpsikologi.org, pasienia, Maritime Glory of Majapahit, Serat Damarwulan, and Serat Selarasa.