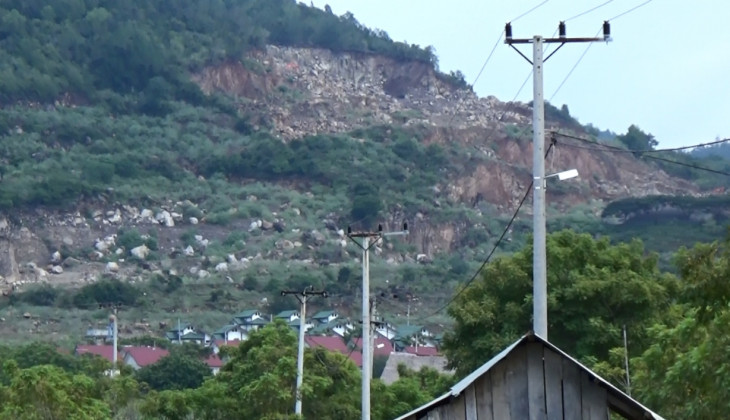 Heavy rains led to flooding and avalanche in Neuhun village, Masjid Raya, Aceh Besar Region, Aceh Province on Saturday (11/28) at 19.30 hours. This was a relocation area of Tsunami survivors in 2004. It is prone to high risk of avalanche especially with mining activities happening above the settlement.
Before the occurance of the avalanche, UGM's team and the Regional Mitigation Agency (BPBD) were preparing a last step of Early Warning System installation. The act led by Dr. Faisal Fathani prepared an evacuation rehearsal. After the EWS installment, five hours before the flood and avalanche occured, the EWS's tiltmeter siren was on. "The siren was on when the heavy rain came, so the residents who initially would be trained for evacuation have to do the real evacuation," Faisal Fathani said, Monday (30/11).
Faisal said, the EWS worked well at 12.05 and 14.15 hours by giving a warning, 5 hours before flood and avalanche that caused an evacuation for 100 families. "The sediment avalanche caused by flood went into 10 houses and 40 high risk houses," he explained.
According to Faisal, since the beginning the area was known as high risk area for avalanche. Because of that, the Disaster Mitigation Agencies of Aceh Besar are cooperating with UGM to install Avalanche Early Warning System. The newest report on the current condition, there are still materials with the size of 3m x 3m on the high ground that are ready to fall and destroy the settlement in the lower ground. Few recommendations available for current condition are so that the residents are evacuated to the safer place and provided with basic needs while the material secured.
Beside that, the mining activity that uses equipment needed to be evacuated immediately and the effort to stabilize the ground needs to be done. "We suggest, EWS is maintained to work well so that it could give early detection," he explained.
Sutopo Purwo Nugroho, the head of Center of Information and Public Relations of the National Disaster Mitigation Agency (BNBP), said that the flood occured in the other area as well, such as Krueng Bate village, Trumon Tengah, Aceh Selatan Region since Friday night (11/27). As many as 92 houses were buried by mud. The flood was mixed with heavy material such as woods and trees. While in Pulo Paya Village and Gunung Kapur, hundreds of houses were flooded as high as 60 cm.
The flood also destroyed few public facilities such as roads, bridges, mosques, schools, health facilities, and some plantations. Until this morning, the emergency response is on progress. One of the step is cutting few trees that collapsed on houses and forwarding help to clean houses of the victim.