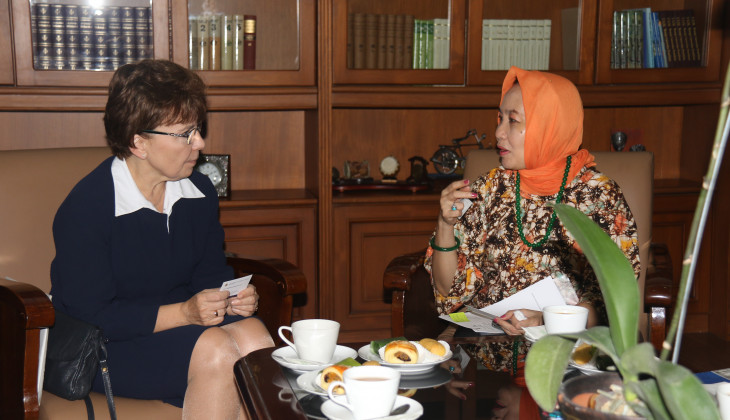 UGM welcomed a visit by Budapest Business School, Hungary. In that visit, Rector of Budapest Business School, Prof. Dr. Eva Sandor Kriszt and the head of International Affairs of Budapest Business School, Dr. Judith Hidasi, were accepted by Rector of UGM, Prof. Dr. Dwikorita Karnawati, Ph.D., Thursday, at the Meeting Room UGM. Dr. Paripurna, S.H., M. Hum., LL.M., the Vice-Rector of Cooperation and Alumni was also present.
The visit was held as an early approach for further collaboration between Budapest Business School and UGM. The collaboration will be held on the education and research matters. Eva Sandor said that they were interested in collaborating with UGM because they have the same goal on Higher Education Development and same spirit in becoming international institution. On that occasion, Eva introduced her university's programs. One of them is double degree with 11 programs. "We hope to learn what kinds of collaboration we could do with UGM."
Rector of UGM welcomed this collaboration offer well. She hopes in the near future, UGM could gain knowledges by this collaboration, especially on the research matter. "Many of Hungarian researchers earned Nobel Prizes. UGM needs to learn how to create young researchers to become international and expert researchers," she explained.
According to Dwikorita, Indonesia and Hungary have the same philosophy. Indonesia has Trisakti philosophy, which are sovereign in politics, independent in economy, and cultural in personality.
The Hungarian Government is also applying the same thing, and Budapest Business School is one of Think-tank on the nation development. "UGM is eager to collaborate further to learn about the innovative culture and research publication to the industrial world. We hope the collaboration is sustain, effective and productive." Dwikorita concluded.