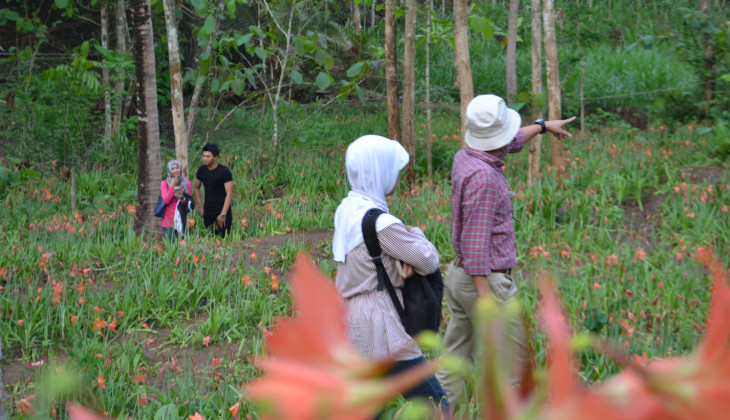 Amaryllis Garden that belongs to Sukadi in Patuk Gunungkidul regency was jammed by people. But due to lack of management and pedestrian facilities, many of the flowers were stepped on by visitors and ruined. Whereas the flowers commonly known as Rain Lily were blooming in the early rainy season. It is too bad that the beauty of this flowers can't be seen by many people while the bloooming time could last only one week.
Some of UGM lecturers who joined the UGM Guyub Rukun community were motivated to make a landscape design for Sukadi in order that visitors could enjoy the gardens without ruining them next season. The lecturers also donated a 5 million rupiahs fund to make a pedestrian zone. "We made a landscape design, there will be small path for pedestrians to walk so they do not need to step on the flowers," Heru said when forwarding the charity, Monday (11/30)
According to Heru, Amaryllis Garden in Gunungkidul could be designed like keukenhof ("Kitchen garden", Dutch pronunciation: [?kø?k?(n)???f]), also known as the Garden of Europe, in Lisse, the Netherlands. It is one of the world's largest flower gardens. To make such a landscape, we need to collaborate with some experts from Engineering and Agriculture faculty to get their views on on aesthetic and agronomy aspect.
Siti Nurul Rofiqo Irwan, Ph.D., horticulture and park design researcher from Faculty of Agriculture, said that the area was not prepared for a tourism destination. If the area is going to be made an official tourism destination by the government, they need to provide pedestrian facility and other supporting equipments.
The government, Siti said, needs to be aware of youngsters who have big hype for Amaryllis. "We could use Amaryllis as a charm of Gunungkidul," she said.
Siti added, the Sukadi's garden could be designed as an education area for visitors. "The activity could be developed, they could learn, plant and buy seeds."
Sukadi, in return appreciated the help of UGM. He promised to use the fund so that his garden can be enjoyed further. He did not expect the flowers he had planted since 2006 would be visited by many people after being published in social media.
"I didn't think it could be this big," he said.
Sukadi recounted that the flowers were planted on an area less than one hectare, with the seeds taken from a farmer who threw them away, thinking them as a parasite. After that, he planted them on his backyard and sold themt after they bloomed for 7-10 thousand rupiahs/pot. "I have always liked flowers, I often bought the seeds per kilos and plant them again, " he said.