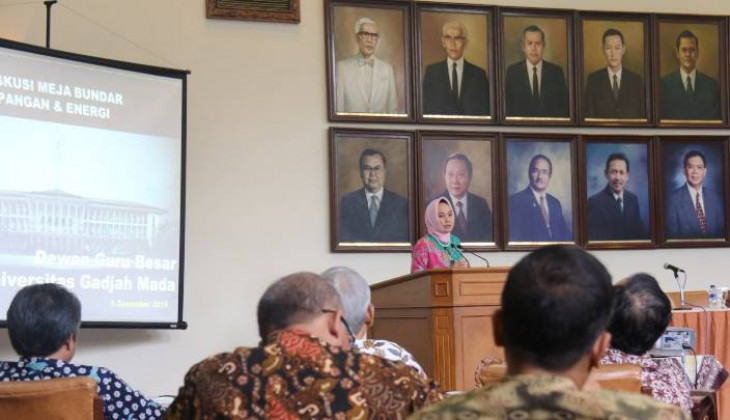 Food and energy are important elements for a country to be sovereign. UGM continues to support food and energy sovereignty through a round table discussion event conducted on Saturday (5/12) in the Senate Hall. The event hosted by UGM's Board Professors aims at sharing information on the development of food and energy in terms of supply and demand, policy, science and technology practices, as well as criticisms and suggestions to policy makers.
Rector of UGM, Prof. Ir. Dwikorita Karnawati, M.Sc., Ph.D, said UGM with its entrepreneur spirit was trying to implement the tridarma motto of university for the benefits of society, industry and government.
"This discussion aims at influencing policy to be made. This is a proof that UGM participates in the development of the nation in terms of food and energy,," said Dwikorita.
She pointed out an example of the solution given by UGM on peat land that has affected the country. There are six measures initiated by UGM for peatland restoration, including planting pattern and vegetation restoration.
Chair of Board of Trustees, Prof. Dr. Sofian Effendi, MPIA., viewed that scientists had to assist the country not only in food suffiency, but also sovereignty, as this relates to the dignity of the country.
"Indonesia has thirty years to realise its dream as the third ASEAN biggest country, including through building food sovereignty and human resources," he said.
As a university of struggle. UGM has already strong foundation to realise a campus that makes contributions to the state. The outcomes of this discussion gives contribution to Indonesia in terms of food and energy.
Event chairman, Prof. Dr. Ir. Sahid Susanto, expected through this discussion, UGM experts could think about ways to support food sovereignty of Indonesia.