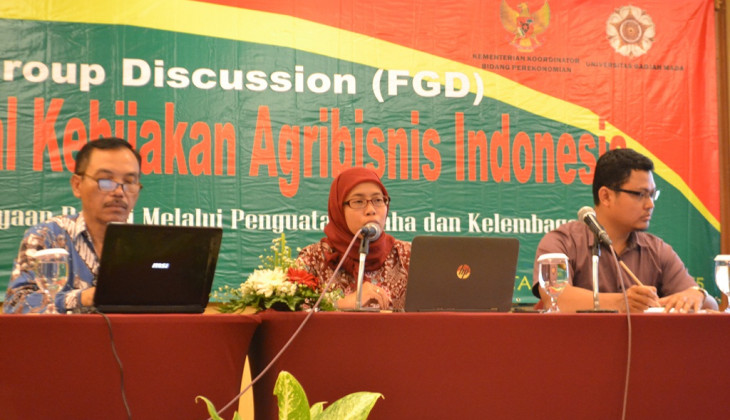 The dean of Agriculture Faculty UGM, Dr. Jamhari, said that as many as two thirds of 26 million farmers in Indonesia are not on the member list of farmers group. Whereas, many aids and programs are run by the government through the Farmers Group (Gapoktan ). Therefore, many of the government programs are not felt by the farmers.
"The aid has been distributed through Farmers Club, whereas 70 percent of farmers are not on the list," Jamhari said at the discussion titled "Realising Farmer's Self-Dependence through Business and Institutional Strengthening" which was held at Jogja Plaza Hotel Yogyakarta, Wednesday (12/10)

Jamhari said that according to census, just as many as 4 percent of the farmers have used co-op to help their business. Jamhari was trying to push the government to create an economic institution for farmers that will involve all farmers. The institution needs to be designed on a global scale and on a corporation network. According to the Dean, the problem is not just about inadequate farming area but also inadequate income. "Some 47 percent of the farmers feel like their incomes are not enough to cover their daily needs," he said.
Meanwhile, Dr Bambang Adi Winarso, Deputy Head of Food and Biotic Resources of Economy Coordinating Ministry said in a press release that to strengthen bargaining position of farmers through economy institution is an emergency need for them to be able to compete and become self-reliant in the economy. "The farmer institution has to be designed by reorganizing the institution," he added.