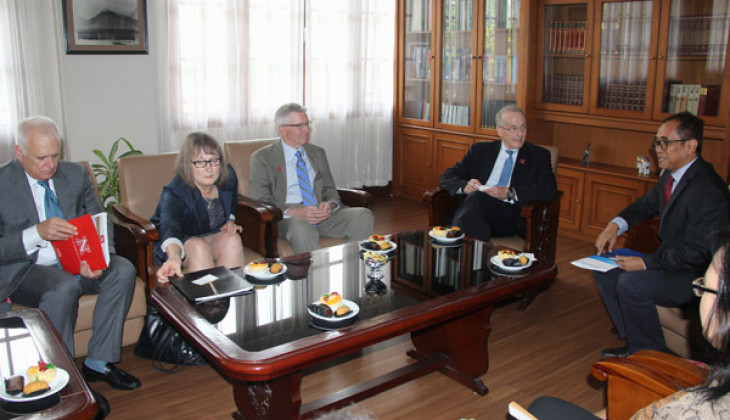 A delegation from University of Nebraska-Lincoln (UNL), U.S., visited Universitas Gadjah Mada on Thursday (10/12), led by Rector, Harvey Perlman, to discuss cooperation opportunities with UGM.

Perlman said he was interested in establishing a cooperation with UGM in terms of education and research, particularly in agriculture, natural resouces and water resource sustainability, also early childhood education.

"UNL is seeking for partners to develop cooperations in those areas," he explained.

Until now, he said, UNL had cooperated in early childhood education with other world universities, including East China Normal University, the Tata Institute of Social Science, Brazil, and Hacettepe University, Turkey.

"We hope there will be collaborations to be made with UGM, not only in those two areas, but also other areas," he expressed his hope.

Vice-Rector for Cooperation and Alumni of UGM, Dr. Paripurna P. Sugarda, S.H., L.L.M., welcomed the offer. He hoped the collaboration could be made soon that benefits both sides to address agricultural issues and early childhood education.

In the visit Perlman was accompanied by Dr. Archie Clutter, Dean of Agricultural Research and Federal Laboratories, Dr. Helen Raikes, Departement of Child Youth and Family Studies, and Thomas Farrell, Senior Advisor to the Chancellor.

Also attending the meeting was Dean of Faculty of Psychology UGM, Supra Wimbarti, M.Sc., Ph.D., Vice-Dean for Research and Cooperation of Faculty of Animal Sciences Peternakan, I Gede Suparta Budisatria., Ph.D., Deputy Dean for Finance, Assett, and Human Resource of Faculty of Engineering, Prof. Dr. Ir. Bambang Agus Kironoto, and Vice-Dean for Alumni, Cooperation and Development of Faculty of Agricultural Technology, Dr. Wahyu Supartono.