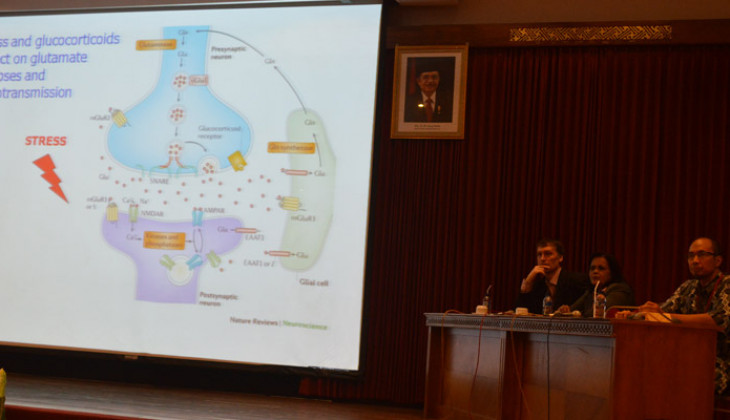 The changes in disease pattern and life style increased the number of non-communicable and degenerative diseases, such as diabetes, stroke, and other diseases. The Dean of Medicine Faculty, Prof. Dr. dr. Teguh Aryandono, Sp.B(K) Onk., explained that researches and neuroscience development in Indonesia are still limited whereas this field is very strategic to increase population's health level status.
According to Prof. Dr. Teguh, the management of degenerative neuroscience needs comprehensive skills. It needs an integrative collaboration among stakeholders, researchers, and medical staff.
"The collaboration among basic medical and clinical science needs to be improved to explore neuro system and its pathology," he said on Friday (12/11) when opening seminar themed "Translational Neuroscience: Bridging the Gaps between Basic Medical and Clinical in Faculty of Medicine UGM.
Bridging the gap between academic researchers and medical staff, he said, posed a great challenge in Indonesia, but it could also be seen as an opportunity to develop neuroscience in the near future.
"We hope through this activity, we could improve the management quality of neuroscience and increase understanding about medicine based on proof on the effort of preventing, diagnosing, and management," he explained.
Meanwhile, chairperson of the seminar, dr. Rina Susilowati, Ph.D., said that this occasion was expected to improve the collaboration among basic science researchers and medical staff since it was not yet optimum.
Rina mentioned that the event was joined by 171 people from researcher field and clinical field. It was held from December 11-12, 2015, presenting 72 abstracts on neuroscience-related field. As many as 32 of them were presented orally while other 40 through posters.