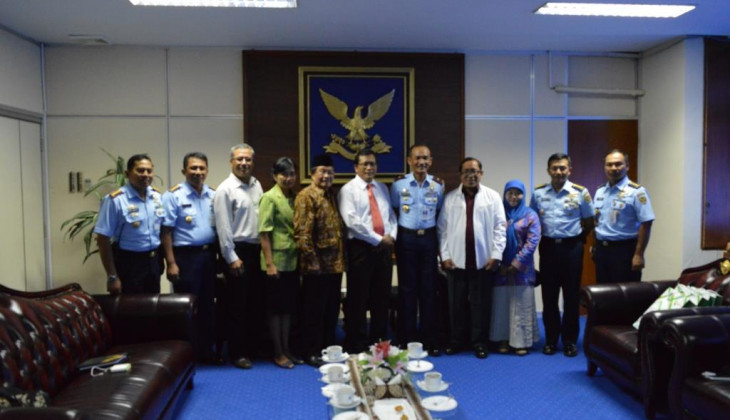 The representatives of UGM 66th anniversary committee visited the Air Force Academy (AAU), Tuesday (12/15). The UGM team was welcomed by the Governor of the Academy, Air Chief Marshall Wahyu A. Djaja, S.Sos. The visit was a form of UGM's appreciation for their support to the Nitilaku event last Sunday.
"We are very thankful for the Air Force Academy to support the Nitilaku event with a show given by their marching band and Dirgantara museum. We hope that this partnership can be continued in the upcoming year and transformed to other forms as well," said Prof. Dr. Ir. Ali Agus, DAA., DEA, chairman of 66th Anniversary Committee.
Responding to the visit, the Vice-Governor of Air Force Academy talked about the relationship between the two institutions that has developed for a long time. Many teachers there are UGM alumni, hence UGM is not strange to them. "Our relationship was not developed recently. It has been going on since our previous leaders," he added.
On this occasion, the two parties were talking about potential opportunity to collaborate in the near future academically or non-academically, whether in the form of public lectures, science references, knowledges related to nationality concept and current update of our nation's situation. They also hope that students from both institutions could interact with and share knowledges to empower each other. (adelily)