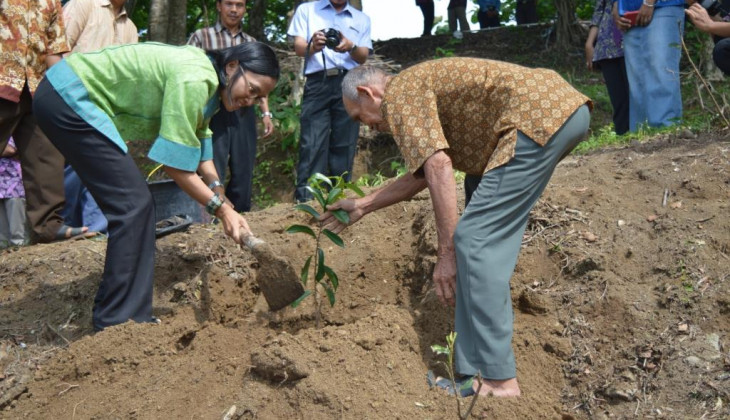 Girirejo and Mangunan villages have been recognized as plantation area which became one of tourist destinations. To maximize the development and utilization of plantation in this region, Universitas Gadjah Mada's Agro Technology Innovation Center initiated the planting of three major fruit crops, which are sapodilla, soursop and sugar apple which will be cultivated in the surrounding area. The program was inaugurated on Tuesday (22/12) by tree planting in the surrounding area of Agro Technology Innovation Center Office Mangunan-Girirejo.

Both of these villages are community-based project sites that are managed by Universitas Gadjah Mada as research and community service sites. "This place can be a research tool for students that is also beneficial to the community," said Director of the Directorate of Community Service (LPPM), Ir. Irfan Dwidya Prijambada, M.Eng., Ph.D.

Since 2013, PIAT have planted several types of plants in this region. However, different from the previous activities, this time the pattern of planting sites has been made to be more specific, to prioritize the planting of sapodilla, soursop and sugar apple. The fruit will be planted in 3 different locations. The three locations can be alternately approached to become tourist sites plantation where visitors can enjoy the environment there and harvest the fruit from the trees. To achieve this goal, UGM took local people to cultivate these plants. "We will give the seeds to the community for them to plant and they will be assisted by the student for irrigation and fertilization," he added.