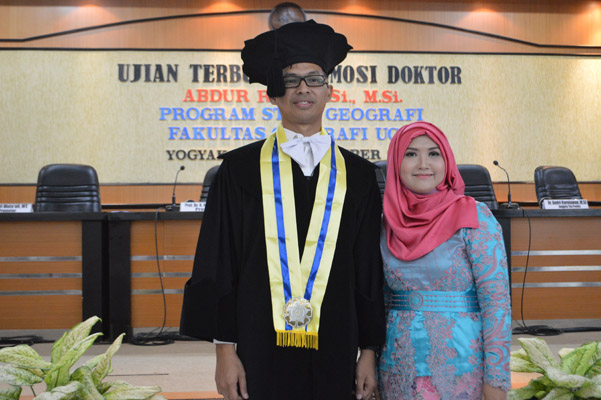 YOGYAKARTA – A total of 437 members of faculty and staff from Universitas Gadjah Mada received retirement award, Satyalancana Karya Satya, and 25 years of loyalty award. The award was given as a token of appreciation to employees and retired employees who have served UGM for decades.
Drs. Masyuhri Maschab, one of the award recipients retiring as a lecturer of Faculty of Political and Social Sciences, expressed his opinion about working at UGM. He said that there are three key reasons to have a dream job as civil servants, which are a definite term of service, monthly salary, and a pension. To that end, the opportunity to carry out the work as a civil servant should not be wasted," he said.
UGM Rector, Prof. Ir. Dwikorita Karnawati, M.Sc., Ph.D., in her remarks said that about 10% of Human Resources at UGM were already over 60 years. Furthermore, less than 20 percent is at the age of 40, even 49% of professors are more than 60 years. These conditions indicate a problem with regeneration and development of the system, "Many years of HR 'hibernation', it's a matter of regeneration and development of robust and reliable systems. Let set up a human resources development strategy," said Dwikorita at Graha Sabha Pramana, Wednesday (23/12).
The Rector added that the current UGM Rector has made regulations regarding load limits on lecturers. This needs to be done to improve the learning plans and learning modules to encourage the promotion and acceleration ranking of UGM. Dwikorita told all education personnel and teachers to be aware of radicalism that may develop on every campus, "Do not let these forms of radicalism go into the Universities on behalf of academic freedom. Do not let it threaten our unity."
Number of retirement awards given by UGM to lecturers and education staff is as many as 80, consisting of 40 professors and 40 academic staff. Furthermore, the number of the award recipients for Satyalancana Karya Satya 30 years are as many as 51 people, 20 years as many as 36 people, and 10 years as many as 127 people. Meanwhile, 25-year-loyalty awards were given to 143 people consisting of 61 professors and 82 employees.