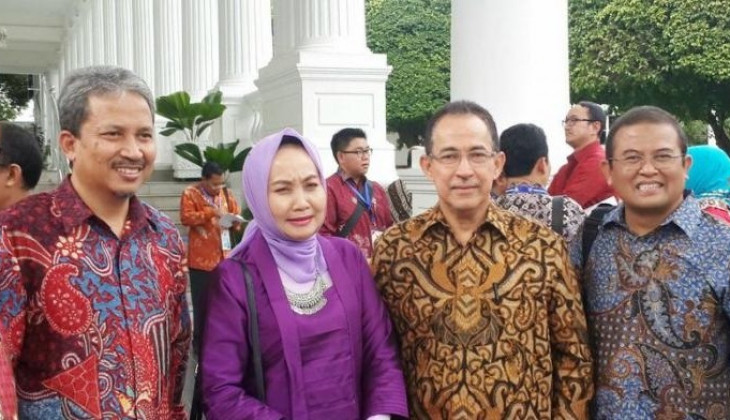 Universitas Gadjah Mada was ranked second in the awarding of Public Information Disclosure for University category in 2015. The event took place at the Presidential Palace, Jakarta, in mid-December. The award is given to public institutions that have proven their commitment to implement the disclosure of public information through surveys and assessments conducted by the Central Information Commission (KIP).

Executive Secretary of UGM, Drs. Gugup Kismono., MBA, Ph.D., said that since 2012, UGM has committed to implement the Freedom of Information Law (Public Information Disclosure) with the assignation of Information and Documentation Management Officer (PPID) that is chaired by the Executive Secretary ex-officio.

Furthermore, the officer takes steps to fulfill the mandate of the law, such as giving public information through UGM website at www.ugm.ac.id, allowing people to access directly the UGM Annual Work Plan and Budget, the financial statements, policies, announcement of procurement, and others.

"It is also a form of UGM's commitment to hold a university management that is transparent and accountable," said Gugup, Tuesday (29/12).

Gugup added, people unable to ask for information from the Commission can go to Public Aspiration Information Systems (SIAP). So far, SIAP has been running information about UGM admission.

The ceremony was attended by President Joko Widodo, the Minister of Communication and Information, Rudiantara, Chairman of the Central Information Commission, Abdulhamid Dipopramono, cabinet ministers, General Secretary of the Audit Board of the Republic of Indonesia, Hendar Ristriawan, Head of Public Relations and International Cooperation of the Audit Board, R. Yudi Ramdan Budiman, governors, commissioners of the Central and Provincial Information Commission, Chairman of the Agency and the Public Information and Documentation Management Officer in the Central and Provincial Public Institutions.
The intent and purpose of this activity is to determine the level of implementation of Law No. 14 of 2008 on Public Information in the Public Institutions that perform their duty to provide access to public information through various methods and ranking instruments of the Public Agency.

There are seven categories in this event, which are University Public Agencies, state-owned enterprises category, the category of non-structural institution, State Institutions category, the category of the Provincial Government, the Ministry category, and the category of National Political Parties category.