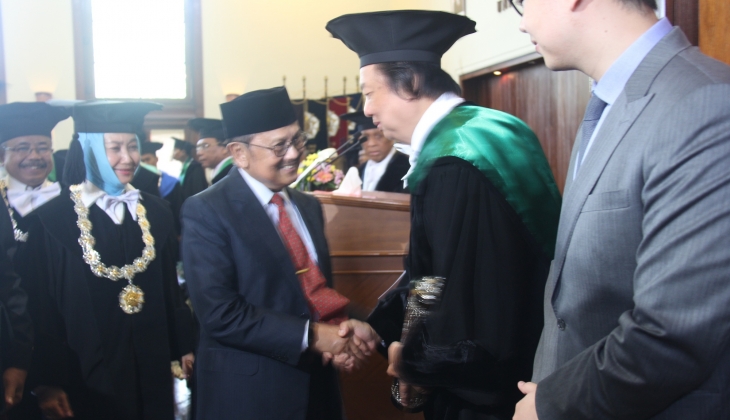 Former President, Prof. Dr. Ing. Bacharuddin Jusuf Habibie, said nobody born a conglomerate. Success comes from the determination to do something for society.

Attending the awarding of honoris causa doctorate to Dato' Sri Prof. Tahir, MBA, in the Senate Hall of Universitas Gadjah Mada on Friday (22/1), Habibie revealed success comes due to the love of a mother who has raised and taught her children unconditionally. The best legacy is values, not capital.

Having a huge capital but having negative values will only make capital flight. On the other hand, someone penniless but with great values from parents added with knowledge and technology will make him sought after by capital owners.

"Dato' Tahir who was born from a modest family had inherited acculturation process in the form of values and characters of an entrepreneur. The entrepreneurial spirit grew as a value directly taught by parents or indirectly. And Dato' Tahir grew in a family with a high entrepreneurial spirit," said Habibie.

Habibie knows Dato' Tahir as a hard worker, someone who loves other human beings. He saw if one is doing his best to help others regardless of their differences in faith, ethnic group, or others, he will succeed.

"The process of excellence is a positive synergy of three determining elements, which are cultural, religious and understanding elements, also science and technology mechanism. These three elements have to positively synergise to enable your productivity and efficiency to develop," former President Habibie concluded.