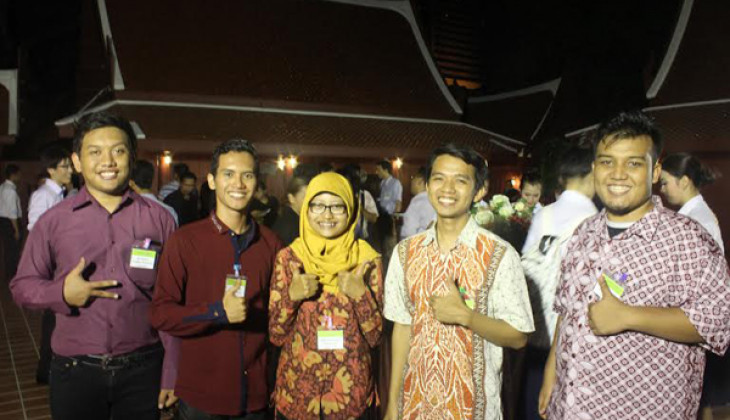 Five Universitas Gadjah Mada students attended the 2nd ASEAN School On Plasma And Nuclear Fusion (ASPNF) at Chulalongkorn University, Bangkok, Thailand, from 18-22 January 2016.

The students are Muhammad Rizki Oktavian, Adinda Tisha Desviana, Andhika Yudha Prawira, Immanuel Adventura Puguh Bagus Permana, and Muhammad Iqbal Farreza. They are all Nuclear Engineering students.

"As many as 58 delegates from Southeast Asian countries, India, and Japan attended the event," said Rizki, one of the UGM delegates on Tuesday (26/1) at Faculty of Engineering UGM.

ASPNF is hosted by Thailand Institute of Nuclear Technology (TINT), Research Institute on Magnetic Fusion of French Atomic Energy Agency and Alternative Energy Commission (CEA-IRFM), Sirindhorn International Institute of Technology (SIIT), and Chulalongkorn University (CU). It is part of cooperation on Magnetic Fusion research between CEA-IRFM and Thailand universities.

"Meeting with and having a lecture from plasma and nuclear fusion experts are an extraordinary experience for us. Learning plasma and nuclear fusion is also an interesting thing as we deal with new technologies to overcome world energy problem," he said.

Rizki said the ASPNF 2016 was an intensive short course related to nuclear fusion. Participants obtain lectures from nuclear fusion experts from Thailand, France, and Japan.

Nuclear fusion is a new technology in nuclear energy that is developed to address the world depleting energy. Nuclear fusion reactors can produce bigger energy than that of current power generators, using duterium and tritium elements existing in water. Use of such energy can provide abundant energy whilst reducing pollution due to fossil fuel use.
"Through this event we gain more experience and insight related to new technologies in nuclear energy," he concluded.