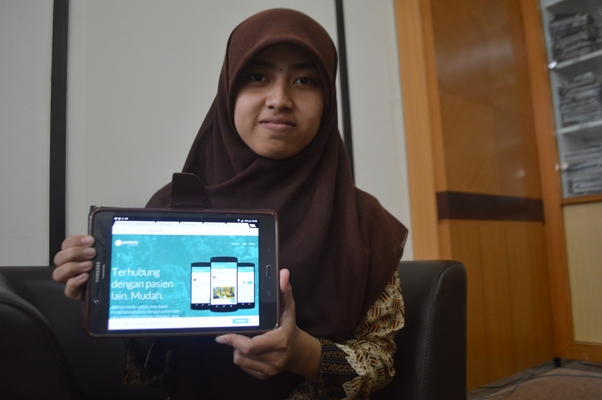 Four students of Universitas Gadjah Mada (UGM) have developed an application called Pasienia useful for patients. It aims at allowing patients to interact and support where patients and families can share information and experience of the disease they are having.

CEO Fadli Wilihandarwo said the app was specially made for patients of same diseases. "Usually, patients want to talk, discuss or share with people like them. With this app, patients can interact and support each other," he said in a press release on Monday (1/2) at Fortakgama Room of UGM.

The idea came up when he was accompanying a friend undergoing a lung cancer therapy from 2013-2014. "When I accompanied this patient, they talked to other patients nearby, sharing experiences and supporting each other," said the man born in Tarakan, North Kalimantan, on 13 February 1988.

"Related to the tips given by patients, doctors normally have no time to discuss in full, so it is the patient themselves who share the info," the Medicine student said.

In March 2015 Fadhly started to develop the app along with Haidar Ali Ismail from Computer Sciences of UGM, also Dimas Ragil Mumpuni and Rusmawati Harya Megasari from Management study programme. When they opened it for users in May 2015, response was positive. Currently, up to 500 patients have registered themselves.

The app has already won first place in three prestigious competitions: Start Surabaya Bootcamp, Indonesia Developer Summit, and Forum Informasi Kedokteran Indonesia. It was also a participant at the Google Hackfair 2015 in Jakarta, being personally presented to Jason Titus, VP of Engineering Google from Mountain View, California.

This app can now be downloaded from Pasienia.com or Google Play Store. But it currently covers patients of cancer, diabetes, heart, rubella, and lupus.

Here, patients can consult with their doctors online for free. Presently, three gynecologists and obstreticians have joined the app. More are expected to join.

"We're also assessing possibilities for cooperation with laboratories in Jogja to help patients have supporting examination and get discounted price," he said.

Haidar added that they planned to work with tourism agencies in Yogyakarta to get their itineraries included in the services of Pasienia.

"We want to produce a medical tourism as happened in Singapore and Malaysia where patients can go to tourist destinations in Yogyakarta after getting hospital treatment," he said.

Pasienia is developed for android based smartphones. Later it will be developed for iOS and web versions to help more patients.