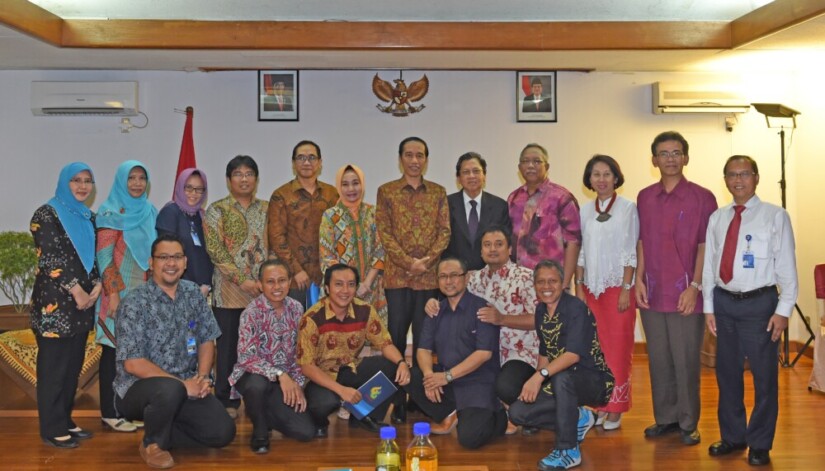 The Rector of Universitas Gadjah Mada (UGM), Prof. Ir. Dwikorita Karnawati., M.Sc., Ph.D., along with a number of researchers, paid a courtesy call on President Joko Widodo at Hotel Manohara, Borobudur, on Friday (29/1). The President and entourage were visiting Central Java and Yogyakarta to open and attend the Conference of Indonesian Rectors Forum (FRI) 2016.
To the President, the UGM Rector reinstated the position of UGM as a university of struggle with the spirit of socio-entrepreneurship. Dwikorita said she always reminded UGM researchers not to live in their own dreams, but becoming a tower of water. "UGM is not an ivory tower, living in their own dreams, but a water tower," said Dwikorita.
Since the onset, said Dwikorita, UGM has always encouraged lecturers and students to design researches applicable to society. This is believed to be able to reduce use of imported products. In her opinion, as a centre of excellence in science and technology, UGM has made re-orientations/reforms attempts, including paradigm change of "academic arrogance" to "academic wisdom".
"The (paradigm of) western concept of symbol of progress and establishment has turned into down-to-earth innovation that is dedicated to the interests of human beings and it grows from the Nusantara cultures," she said.
The meeting between UGM researchers and President Joko Widodo had yielded results. The President has instructed the State Enterprises Minister to facilitate the downstreaming process of UGM innovative researches, so that these can be mass produced through state enterprises industry. This is particularly on health products, renewable energy, as well as agro and bio-composite products for construction materials.
Meanwhile, in the opening of the Conference of FRI 2016 at UNY, President Joko Widodo repeated the statement made by the UGM Rector that universities should not live in their own dreams. Researches produced by universities are expected to be implemented on the field.
"This means that if we conduct a research, that should be implemented soon on the field. They can be used for society, not only for academic community and ourselves," the President reinstated.