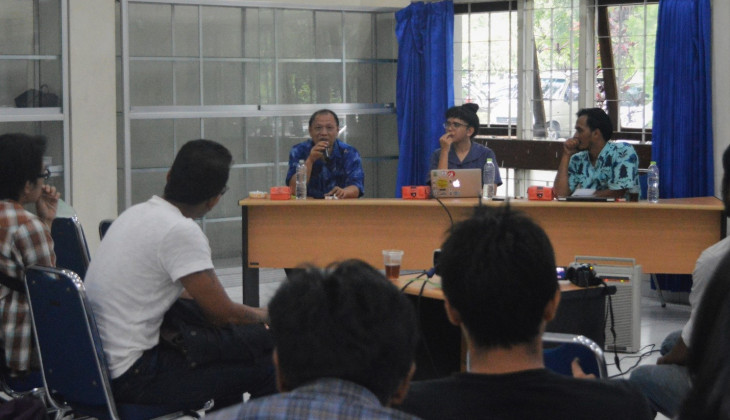 Since its publication in 1974, a novel entitled Cintaku di Kampus Biru (My Love at the Blue Campus) written by Ashadi Siregar has been appreciated by many. In 1976 the novel was brought to the big screen under the same title. The setting is the campus of Universitas Gadjah Mada (UGM) in the70s, depicting student's life and their idealism, criticism, and problems. Now, the classic is brought to theatre.

Despite the 'love' title, the novel not only tells the romance between young people but also a social criticism to the condition of that time. Social and political situations were portrayed by Ashadi to describe the behaviours of the characters along the story. "In the novel, we see the phenomenon of authoritarianism that would culminate at the end of the New Order era as already predicted by Ashadi," said literary critic and lecturer of Faculty of Cultural Sciences of UGM, Prof. Dr. Faruk H.T., on Tuesday (9/2) during a discussion at the Koesnadi Hardjosoemantri Cultural Centre (PKKH).

In the discussion titled Re-debating the 'Cintaku di Kampus Biru' as Marker of the Era, he helped recount the situation at UGM during the70s when he was studying here. He was comparing this with the context of the student of present days. He explained how the long study time then allowed the students to build a strong relations with lecturers, boarding house owners, fellow students, which also allowed romance to emerge between students. In his opinion, this is hard to find in the current life of students who tend to pursue graduation under a shorter term of study. So, the room for social relations is getting limited. "The social context of the70s and today's are much different," he said.

The characters of the novel, however, can still be found today. "The story is still relevant, students of today can easily identify themselves with the characters," said Syafiatudina, researcher from Cultural Studies who is also an alumnus of UGM. She found many similarities with Anton, a student from Manado (North Sulawesi) who found many new things when he arrived in Jogja. He found a different cultural situation from the place where he was brought up. The character of Anton as the main figure was depicted as a student with big ambition, but he had to face various problems, finally felt disappointed and alienated.

The story of Anton with a drama he was facing will be re-interpreted through a show entitled Masihkah Ada Cinta d(ar)I Kampus Biru? (Is There Still Love from the Blue Campus) as a co-project between Teater Gadjah Mada and PKKH UGM to be played from 11 - 12 February 2016.